Debunking Italian Canned Tomatoes (And What To Look For!)
You must be signed in to print this content
From Pomodorini to Datterini, we've got the scoop on our favorite Italian canned tomatoes.
We know it, we've lived it - the world of Italian canned tomatoes can be overwhelming! Giada even
made a video explaining the difference in each kind, from whole and peeled to pureed.
 Between hundreds of articles on the internet contemplating what San Marzano tomatoes are (and if they're worth it), confusing labels, and a multitude of brands to pick from, it's easy to find oneself staring at the shelves of tomato cans in a grocery store for a prolonged period of time.
Never fear, though - because we've got
all of Giada's absolute favorite tomatoes on deck in our shop
, so there really is no wrong choice to be made. We're demystifying these Italian canned tomatoes one-by-one, and giving you the scoop on each variety... then you can simply tap on the photo of whichever one piques your interest, and have it delivered to your door. Easy as that!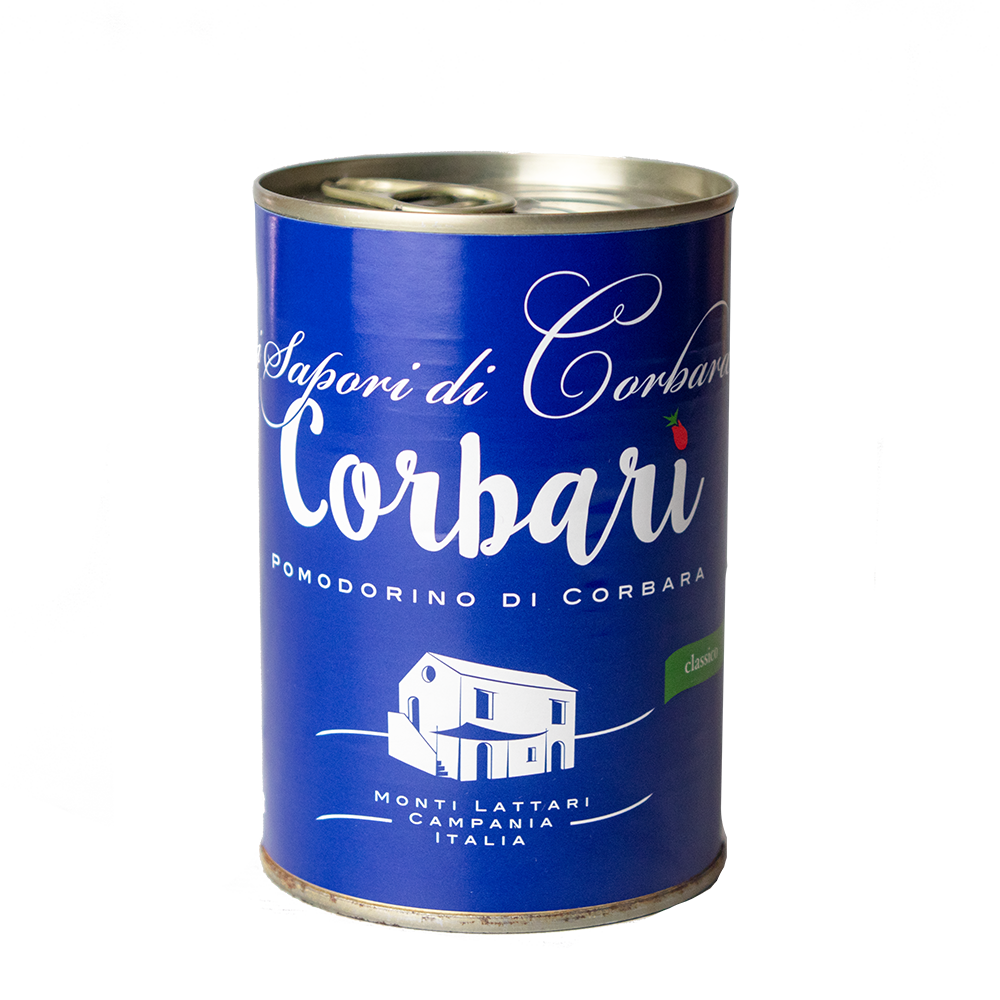 If you ask Giada what her favorite canned tomato is, she won't hesitate with one answer, and one answer only: pomodorini. Pomodorini is simply Italian for "cherry tomatoes," and if you know your way around a tomato, you know that cherry tomatoes are the sweetest of them all - often considered the "candy" of the tomato world. Canned pomodorini are no different - they are naturally sweeter than any other tomato, which makes for a beautiful tomato sauce without much effort or cooking necessary. These Pomodorini hail from the slopes of Corbara, where the rich soil and rainwater lend themselves to a clean, bright flavor.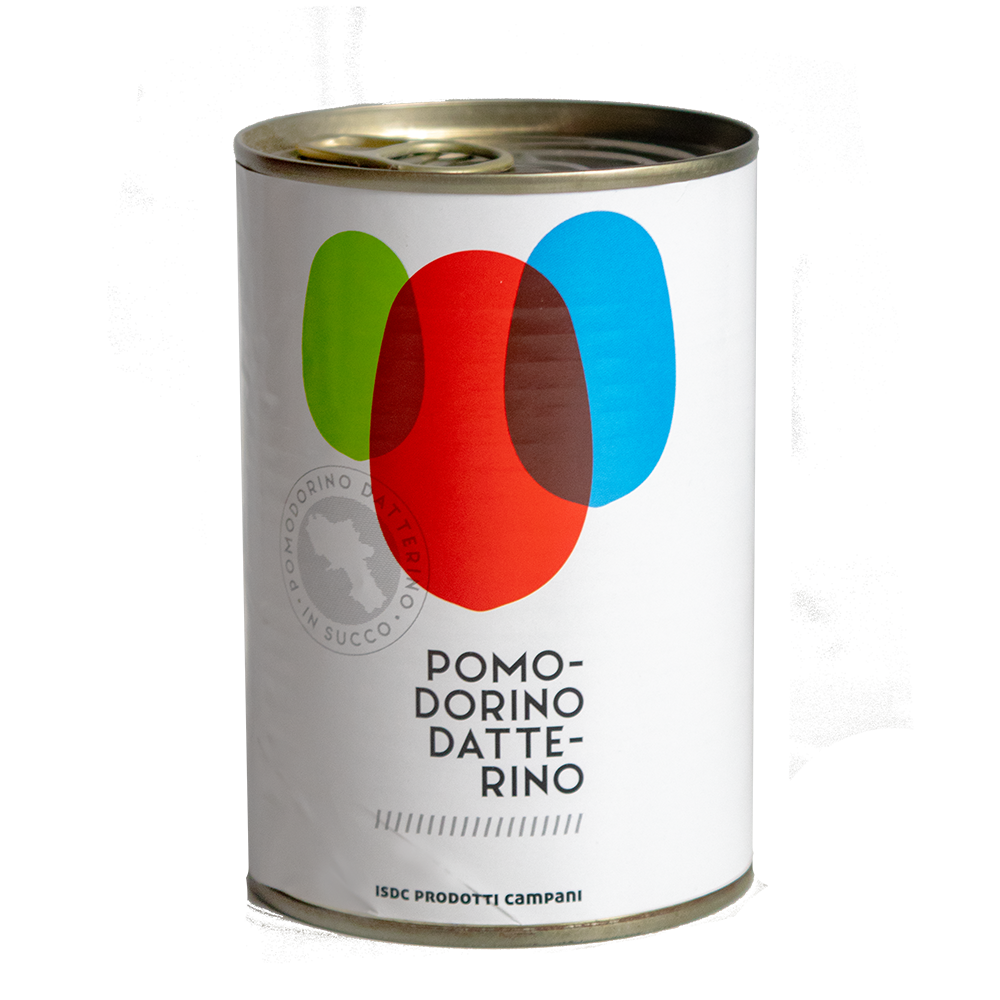 "Datterini" translates to "little dates" in Italian, which is in reference to the size and sweetness of these delicious little bites. Like Pomodorini, Datterini are small and naturally sweet cherry tomatoes. The skin is thicker than regular tomatoes and they have fewer seeds, which means more flesh - and more flesh means more flavor. These tiny tomatoes are so full of big flavor, they hardly need any cooking - throw them into a salad, a super quick pasta sauce, or on pizza for a burst of southern Italian sunshine in every bite.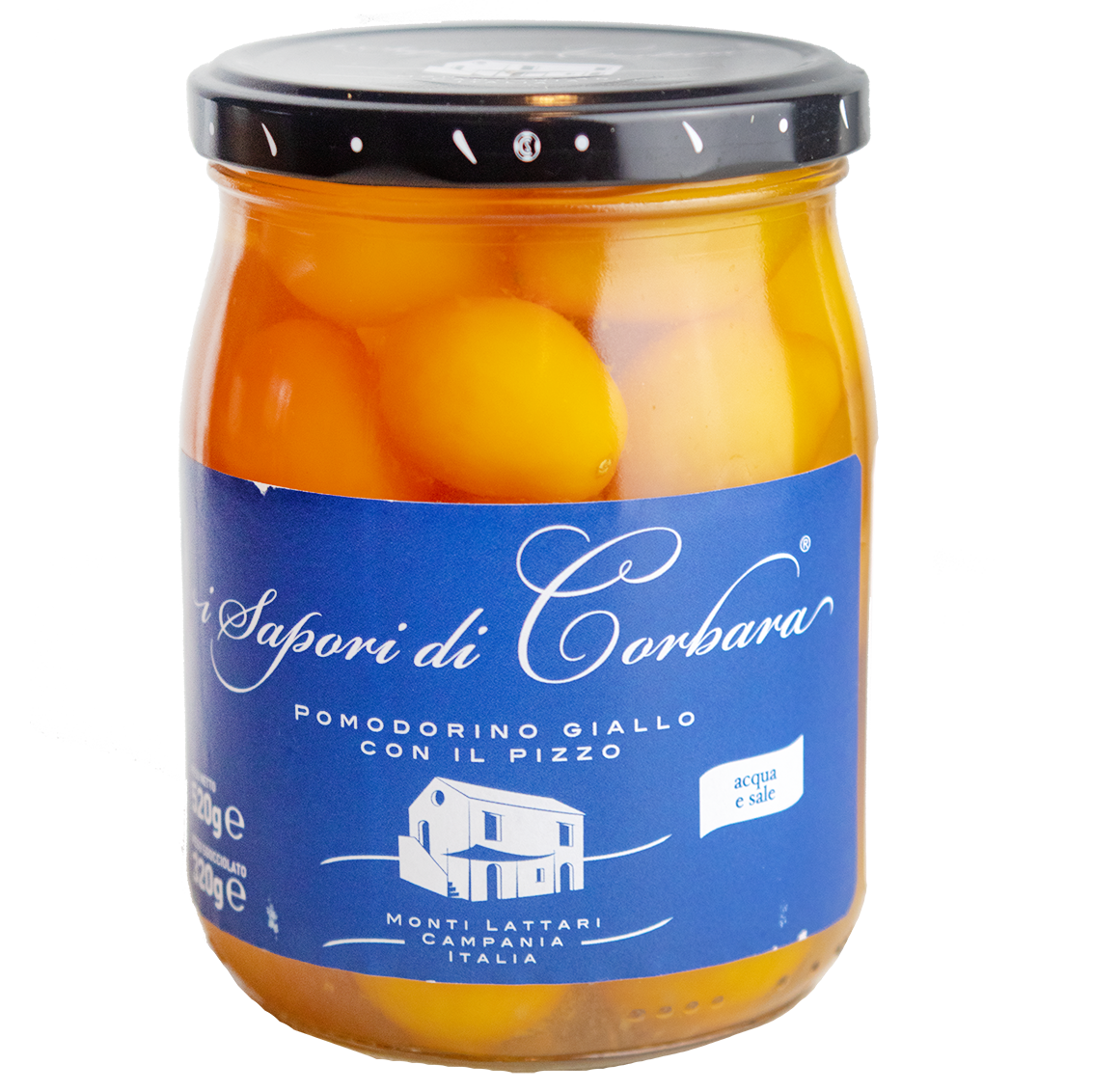 Looks aren't everything, but when it comes to these golden tomatoes, they're just one part of the stunning package. Grown on the slopes of Monti Lattari in the south of Italy, where the most prized tomatoes soak up the sunshine, these yellow tomatoes are prepared most simply – quickly cooked and jarred in simply water and salt at the height of ripeness to capture their fresh, vibrant flavor. So sweet and with such clean flavor, these little jewels of sunshine don't require much cooking: pull out of the jar and use directly on a salad, pizza, or toss with pasta.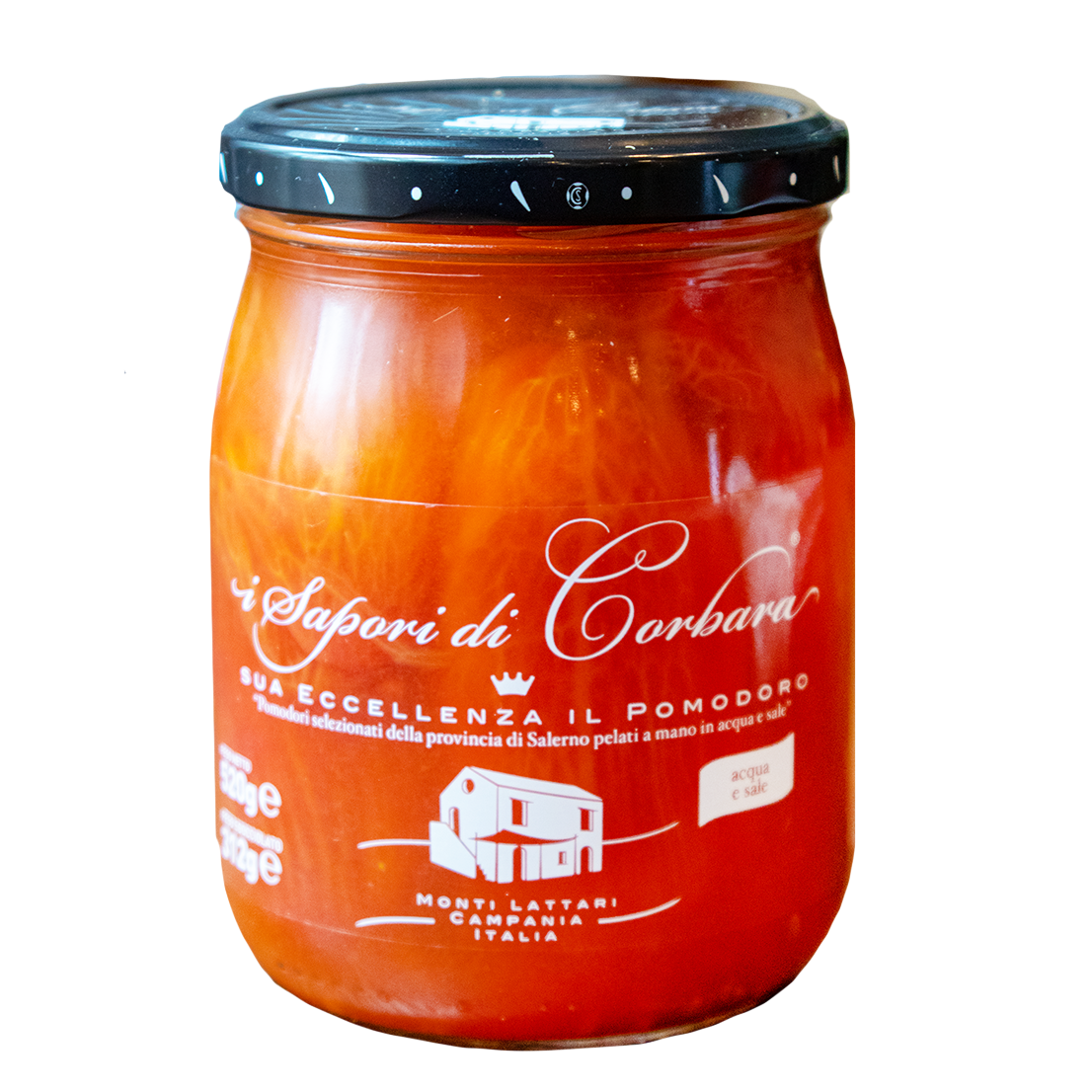 Plum Tomatoes Of Salerno ("His Excellency, The Tomato")
For a tomato to have such a formal, royal title, you'd think it has to stand up to the name - and this one certainly does. From the region of Corbara in southwestern Italy, these tomatoes are grown on the slopes of this mountainside town, watered only by the rain and fed by rich volcanic soil. All conditions lead to the most sweet, clean tomato flavor - most excellent (that's where the name comes from!) for sauces of all kinds.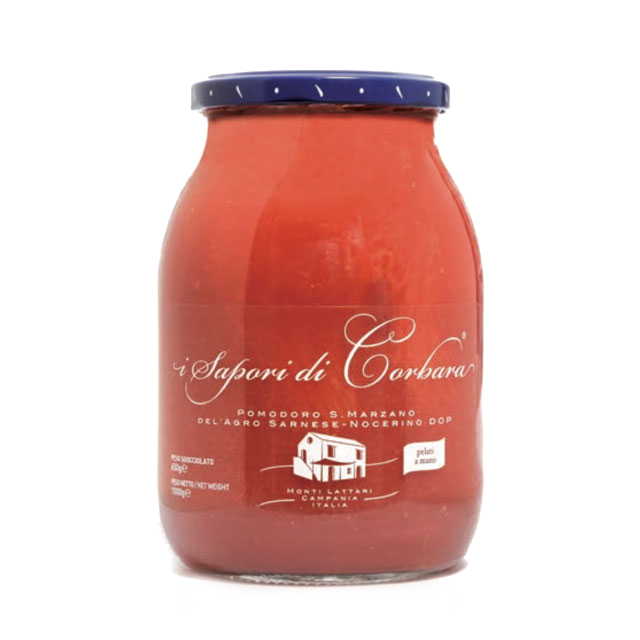 The ever-contemplated and argued-over San Marzano tomatoes are slightly controversial for a reason: the real-deal San Marzano tomatoes are so delicious, sweet and perfect for sauces, they've inspired a slew of imitators out there. As such, it's tricky to go to a grocery store and be confident that you're picking out something real - aka, something that's actually from San Marzano in Italy. 
The confusion comes from this fact: San Marzano tomatoes can be grown anywhere in the world (you can buy the seeds online!), so technically, anyone could sell a can of San Marzano tomatoes. However, the real deal can 
only 
come from the small town of San Marzano outside of Naples. The best way to identify if you're looking at a real Italian jar of San Marzanos is to look for the D.O.P. label, which identifies European regional food products protected by law.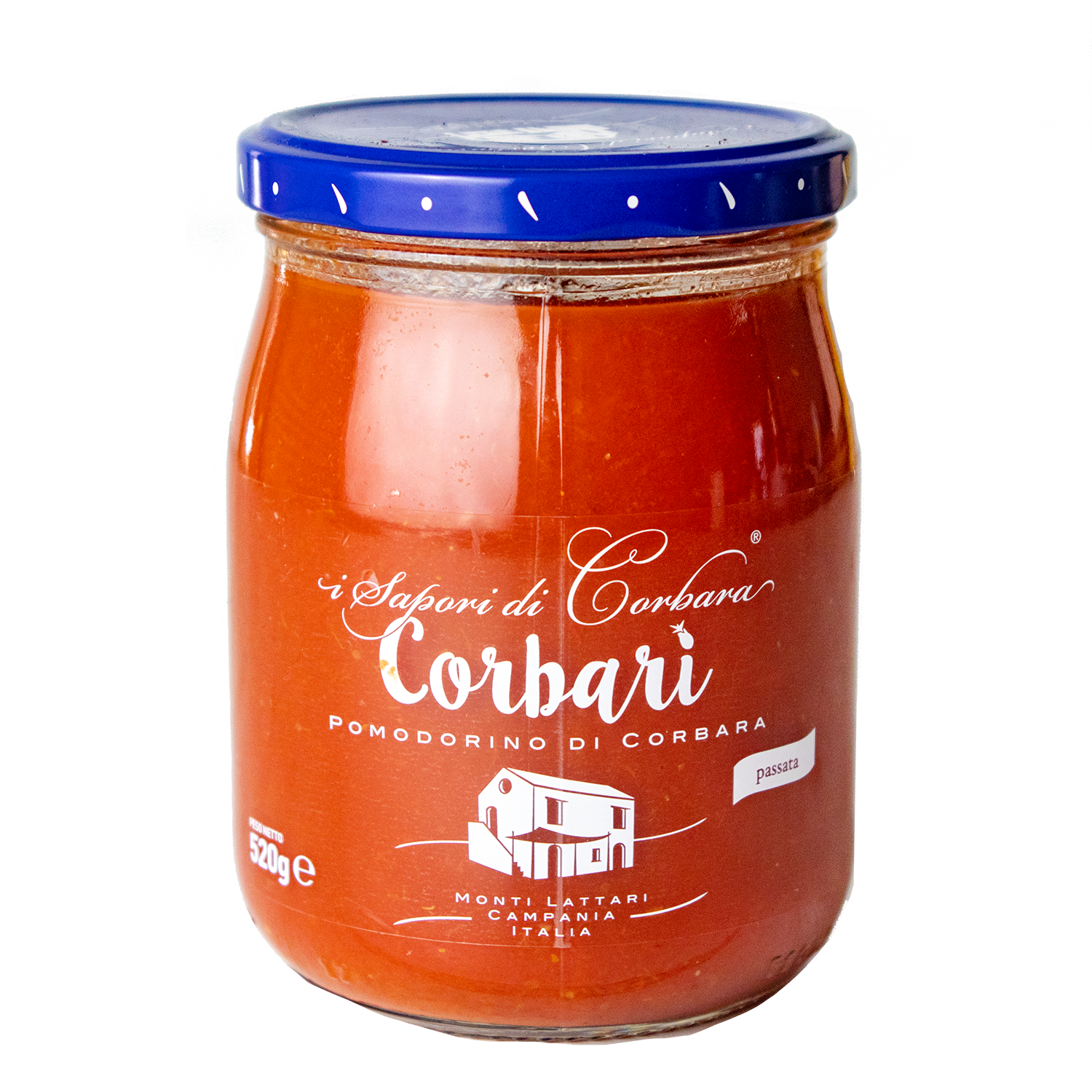 Passata
Okay, first thing's first: passata is not a
type 
of tomato, but rather a preparation. However, we felt it deserved a spot on this list - it's a classically Italian preparation, and because the name's in Italian, we figured we could demystify this one among the others. Passata is simply an uncooked tomato sauce, strained of skin and seeds. It retains all the vibrancy of a raw tomato, but totally smooth and ready to go for a silky sauce. This particular passata is made with Corbara Pomodorini, which means it's deliciously sweet with a clean flavor.