Zucchini Prosciutto Spiedini With Pesto
You must be signed in to print this content
Zucchini Prosciutto Spiedini With Pesto
Author:
Giada De Laurentiis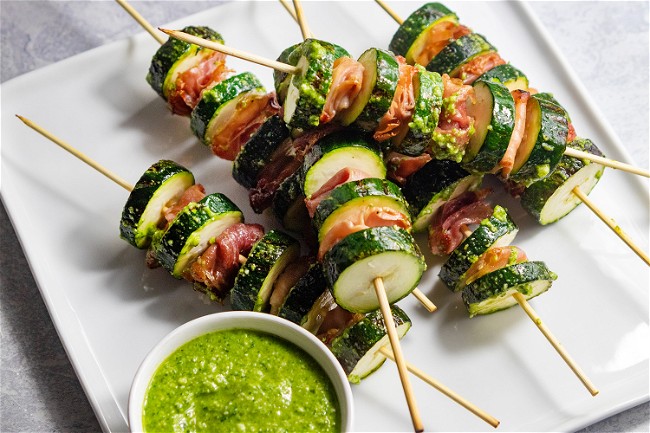 Ingredients
Vegetable oil cooking spray

Lemon-Basil Pesto:

2 packed cups fresh basil leaves
2 tablespoons fresh lemon juice
1 clove garlic, (peeled and smashed)
Zest of 1 large lemon
1/2 teaspoon kosher salt, (plus extra for seasoning)
1/4 teaspoon freshly ground black pepper, (plus extra for seasoning)

For The Skewers:

3 medium zucchini, (trimmed and each cut into ten 1/2-inch-thick rounds)
Six 1/8-inch-thick slices prosciutto, (quartered)
2 tablespoons extra-virgin olive oil
Special equipment: Six 6-to-8-inch bamboo skewers soaked in water for 30 minutes to prevent scorching (or 6 metal skewers.)
Instructions
Place a grill pan over medium-high heat or preheat a gas or charcoal grill. Spray the grill with vegetable oil cooking spray.
For the pesto: Pulse the basil, nuts, lemon juice, garlic, lemon zest, salt and pepper until finely chopped in a blender or food processor. With the machine running, gradually add the oil until the mixture is smooth and thick. Add the cheese and pulse until just incorporated. Season with salt and pepper.
For the skewers: Thread 1 round of zucchini onto a skewer. Thread 1 crumpled piece of prosciutto onto the skewer. Repeat 3 more times ending with a round of zucchini. Each skewer should have 5 rounds of zucchini and 4 pieces of prosciutto. Drizzle the skewers with olive oil and grill, turning occasionally, until the zucchini are tender, about 5 minutes.
Brush the skewers with the pesto, using a pastry brush, and serve.
Cook's Note: To toast the pine nuts, arrange in a single layer on a baking sheet. Bake in a preheated 350 degrees F oven until lightly toasted, 5 to 6 minutes. Cool completely before using.
Nutrition
Amount/Serving
% Daily Value
Carbs

8 grams

Protein

8 grams

Fat

40 grams

Saturated Fat

7 grams

Trans Fat

1 grams

Cholesterol

14 milligrams

Sodium

517 milligrams

Fiber

2 grams

Sugar

4 grams

Unsaturated Fat

30 grams