Vegetarian Slow Cooker Chili Verde
You must be signed in to print this content
Vegetarian Slow Cooker Chili Verde
Author:
Giada De Laurentiis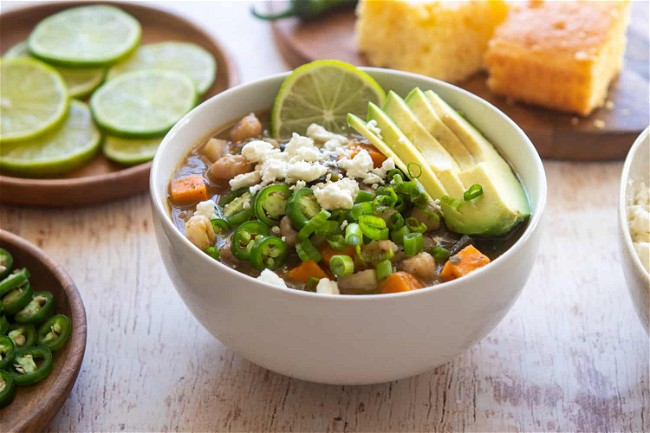 Ingredients
2 1/2 cups vegetable broth
2 teaspoons ground cumin seeds
2 teaspoons kosher salt
2 large poblano chilies (8 to 9 ounces, stemmed, seeded, and diced into ½ inch pieces)
1 8- ounce yam (red-skinned sweet potato, peeled, cut into 1/3-inch cubes)
1 8- ounce Yukon Gold potato (peeled, cup into 1/3-inch cubes)
1 cup chopped onion
4 large tomatillos (8 to 9 ounces, husked, rinsed, cored, and chopped)
4 large garlic cloves (smashed, peeled and chopped)
2 15- to 16- ounce cans hominy (drained and rinsed)
2 4- ounce cans diced (mild green chiles)
Garnishes (such as crumbled feta cheese, chopped green onions, sliced avocados, lime wedges, chopped serrano chiles)
Giada's Buttermilk Corn Bread
Instructions
To a 4 quart slow cooker, add the vegetable broth, oregano, flour, cumin, salt and olive oil. Whisk to combined until smooth and not lumps of flour remain. Add the poblano, yam, Yukon golds, onion, tomatillos, garlic, hominy and canned chiles. Stir to combine. Set the slow cooker to low for 8 hours.
Ladle chili into bowls. Serve with garnishes and corn bread.