Vegetarian Carbonara with Peas
You must be signed in to print this content
Vegetarian Carbonara with Peas
Author:
Giada De Laurentiis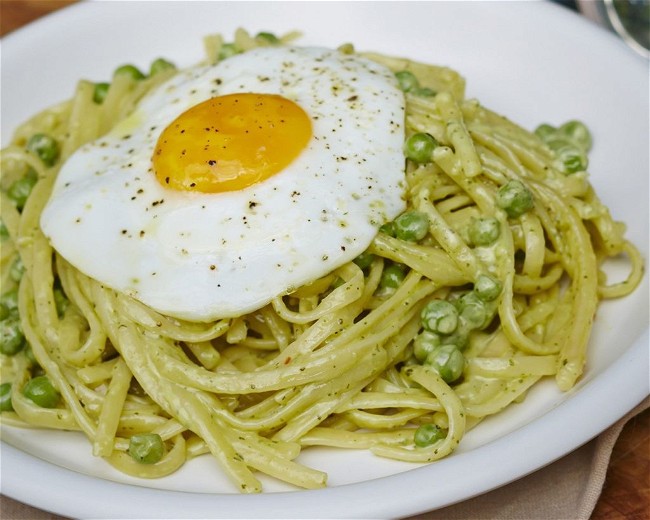 Ingredients
For the Basil-Mint Aioli

1 garlic clove (minced)
2 large egg yolks (see Note)
2 teaspoons mustard
1 teaspoon lemon juice
¼ cup finely chopped fresh basil leaves
1 tablespoon finely chopped fresh mint leaves
½ teaspoon salt
¼ teaspoon freshly ground black pepper
½ cup grapeseed oil
½ cup extra-virgin olive oil
1 pound linguine (or other long pasta)
2 cups fresh peas (or frozen peas thawed)
1 cup shaved pecorino cheese
½ teaspoon salt
½ teaspoon freshly ground black pepper
4 tablespoons butter
4 to 6 large eggs
Instructions
For the aioli, combine the garlic, egg yolks, mustard, lemon juice, basil, mint, salt, and pepper in a food processor and process to a smooth consistency, about 20 seconds. With the machine running slowly drizzle in the grapeseed and olive oils. Set the aioli aside while you make the pasta. Basil-Mint Aioli can be kept, covered, in the refrigerator for up to 3 days.
Bring a large pot of salted water to a boil over high heat. Add the linguini and cook until tender but still firm to the bite, stirring occasionally, about 8 to 10 minutes. Reserve 1 cup of pasta water, drain the pasta, and transfer to a large bowl. Add 1 cup of the aioli, the peas, cheese, salt, and pepper, and toss gently to combine, using the reserved pasta water to loosen the aioli as needed. Place the pasta on a long, rectangular serving dish. Cover to keep warm while you fry the eggs.
Place the butter in a medium skillet over medium-high heat. Add the eggs and sprinkle with salt and pepper. Fry the eggs to your liking. Place the eggs on top of the pasta and serve immediately.
Note: There are some dangers associated with eating raw eggs, especially for those with compromised immune systems. To reduce the risk of salmonella or other food-borne illness, use only fresh, properly refrigerated, clean, grade A or AA eggs with intact shells, use shell eggs that have been treated to destroy salmonella, by pasteurization or another approved method.
Nutrition
Amount/Serving
% Daily Value
Carbs

32 grams

Protein

17 grams

Fat

54 grams

Saturated Fat

14 grams

Trans Fat

1 grams

Cholesterol

212 milligrams

Sodium

722 milligrams

Fiber

4 grams

Sugar

3 grams

Unsaturated Fat

37 grams