Tuscan Pork Chops With Mostarda
You must be signed in to print this content
Tuscan Pork Chops With Mostarda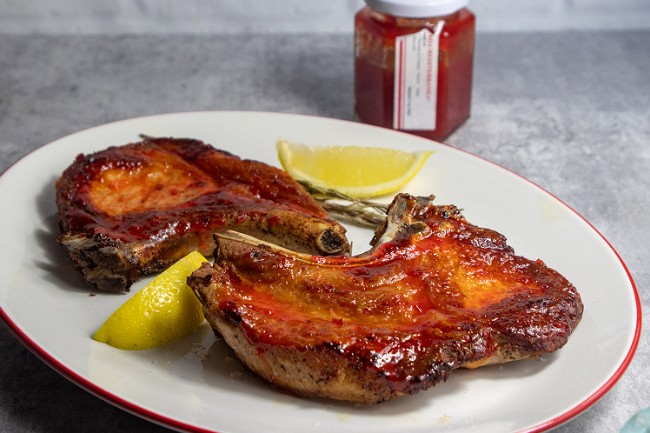 Ingredients
2 (1 1/4 inch thick) bone-in pork chops, about 1 3/4 pounds total
1 1/4 teaspoons kosher salt
2 tablespoons unsalted butter
 2 cloves garlic, smashed and peeled
1/2 lemon
1/2 teaspoon flake salt
Instructions
Remove the pork chops from the refrigerator 30 minutes before cooking.
Heat a large skillet over medium high heat. Add the oil to the pan and heat until the oil moves freely in the pan, another 30 seconds.
Dry the pork chops well with paper towel. Season evenly on all sides with the salt. Add the pork chops to the hot pan and cook, undisturbed, until deep golden brown, about 4 minutes. Flip the chops and cook until deep golden brown on the second side, another 3 to 4 minutes. Reduce the heat to medium and add the butter, rosemary sprigs and garlic to the pan. With the handle pointed toward you, push the pork chops to the far side of the pan. Tilt the pan toward you so the melted infused butter pools on the side nearest to you. Spoon the flavored butter over the pork repeatedly for 1 minute paying close attention to hit any spots that might need a little more browning. Remove the porkchops to a plate and pour the flavorful browned butter over the top. They should reach 130 to 135 degrees F in the thickest part closest to the bone on an instant read thermometer. Squeeze the lemon over the pork and allow the chops to rest for 5 minutes.
Cut the meat from the bone and slice into 1/2 inch pieces. Serve drizzled with the collected juices, sprinkled with the flake salt and dolloped with the mostarda if using.