Triple Chocolate Biscotti
You must be signed in to print this content
Triple Chocolate Biscotti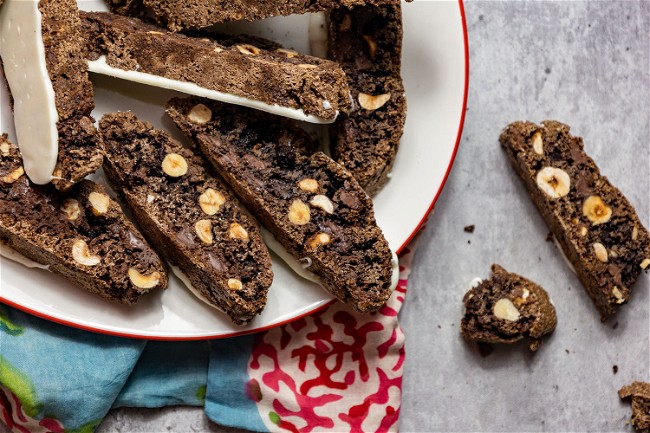 Ingredients
2 cups granulated sugar
1 cup Dutch-processed cocoa powder
1 1/2 tablespoon instant espresso powder
1 1/2 teaspoon baking soda
1/4 teaspoon kosher salt

2/3 cup semisweet chocolate chips

5 large eggs
1 1/2 teaspoon vanilla extract
12 ounces white chocolate, such as Ghirardelli white melting wafers
Instructions
Heat the oven to 325 degrees F. Line 2 baking sheets with parchment paper.
To the bowl of a stand mixer fitted with the paddle attachment, add the flour, sugar, cocoa, instant espresso and baking soda. Mix on medium-low speed until combined. Add in the hazelnuts and chocolate chips.
In a separate bowl, whisk the eggs and vanilla extract until smooth. With the mixer on low speed, slowly add the egg mixture to the bowl and mix until the dough comes together.
Remove the bowl from the mixer and dump the dough onto a lightly floured work surface. Knead briefly to incorporate the ingredients. Portion the dough into four equal parts, and roll into logs about 2 inches in diameter. Set them at least 4 inches apart on the baking sheets.

Bake ethe logs until the sides are firm, the tops are cracked, and the dough inside the cracks no longer looks wet, about 30 to 35 minutes. Remove the baking sheet from the oven, and reduce the temperature to 300 degrees F. Let the logs cool on the baking sheet for at least 10 minutes before slicing. Cut the logs on a slight diagonal into 3/4-inch thick slices. Arrange the biscotti flat on the baking sheet and bake in the oven until the biscotti offer resistance when pressed, about 25 minutes. Transfer the biscotti to a rack to cool.

While the biscotti are cooling, place the white chocolate in a bowl and melt in the microwave, being careful to not burn it. With a knife, spread white chocolate on one cut side of each cooled biscotti. Put the biscotti white chocolate side own on a parchment-lined baking sheet. Allow the chocolate to harden. Peel the biscotti from the parchment and store in an airtight container.