Shrimp and Avocado Salad with Frico Chips
Shrimp and Avocado Salad with Frico Chips
Author:
Giada De Laurentiis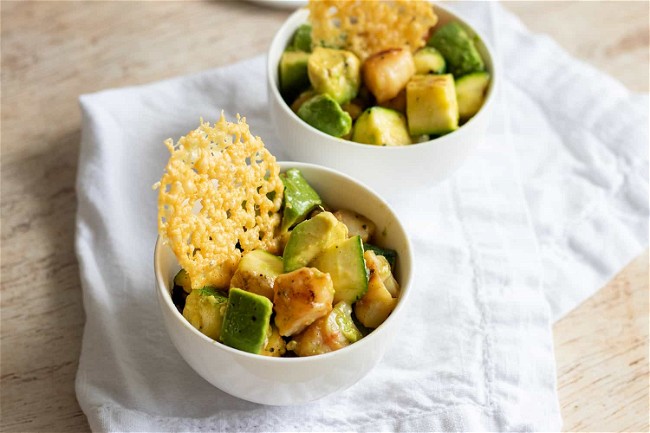 Ingredients
For The Frico Chips:

1/2 cup grated Parmigiano-Reggiano cheese

For The Zucchini:

1 medium zucchini (halved lengthwise)
1 teaspoon extra-virgin olive oil
1/8 teaspoon kosher salt

For The Shrimp:

1/4 cup extra-virgin olive oil
2 tablespoons soy sauce
1 clove garlic (minced)
Zest of 1 large lemon
3 tablespoons chopped fresh flat-leaf parsley
2 tablespoons chopped fresh chives
1/2 teaspoon kosher salt
1/4 teaspoon freshly ground black pepper
12 jumbo shrimp (peeled and deveined)
For The Dressing:
2 tablespoons extra-virgin olive oil
2 tablespoons fresh lemon juice
1 tablespoon agave
1 teaspoon Dijon mustard
1/2 teaspoon kosher salt
1/4 teaspoon freshly ground black pepper
1 medium avocado (peeled seeded and diced into 1/2-inch pieces)
Instructions
Special equipment: nonstick silicon baking mat, such as Silpat, eight 1/2-cup ramekins
For the frico chips:
Place an oven rack in the center of the oven. Preheat the oven to 375 degrees F.
Line a baking sheet with a silicon mat. Place eight 1-tablespoon mounds of cheese on the mat and gently tap down until flat. Bake until golden and bubbly, 8 to 10 minutes. Let the frico chips cool until firm, about 5 minutes.
Place a grill pan over medium-high heat or preheat a gas or charcoal grill.
For the zucchini:
Using a pastry brush, brush the zucchini halves with the oil and season with the salt. Grill until tender, 4 to 5 minutes each side. When cool enough to handle, cut the zucchini into 1/2-inch cubes.
For the shrimp:
In a medium bowl, mix together the oil, soy sauce, garlic, zest, parsley, chives, salt and pepper. Add the shrimp and toss until coated. Refrigerate for 30 minutes. Grill until pink and cooked through, 2 to 3 minutes each side. Chop into 1/2-inch pieces.
For the dressing:
In a small bowl, whisk together the oil, lemon juice, agave, mustard, salt and pepper until smooth.
In a medium bowl, combine the zucchini, shrimp, dressing and avocado. Gently toss until all the ingredients are coated.
Using a slotted spoon, spoon the salad into 8 small ramekins. Garnish with frico chips and serve.
Nutrition
Nutrition
Nutrition Serving Size

8
Amount/Serving
% Daily Value
Carbs

7 grams

Protein

6 grams

Fat

17 grams

Saturated Fat

3 grams

Cholestrol

18 milligrams

Sodium

383 milligrams

Fiber

3 grams

Sugar

3 grams