Shrimp And Artichoke Fra Diavolo
You must be signed in to print this content
Shrimp And Artichoke Fra Diavolo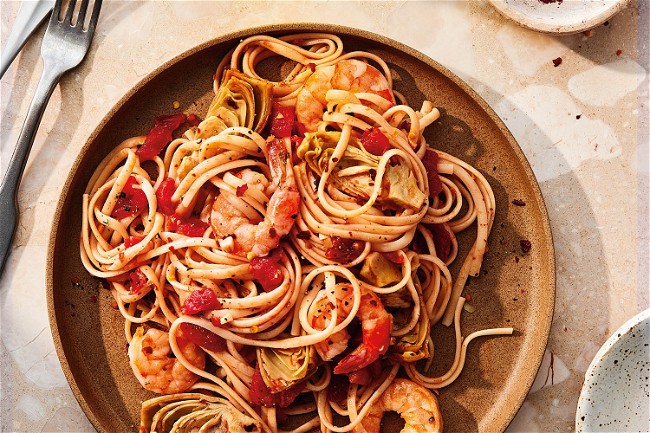 Ingredients
1 pound (455 g) medium or large frozen shrimp, defrosted, peeled, and deveined

1 teaspoon crushed red pepper (less if you don't like your food spicy and more if you want more intense heat)

1 teaspoon kosher salt, plus more as needed
8 cloves garlic, minced
1 cup (240 ml) white wine
1 (28-ounce/795 g) can diced tomatoes, drained
1 teaspoon sugar
1 (12-ounce/340 g) bag frozen artichoke hearts, or 1 can (14-ounce/400 g) quartered artichoke hearts, drained
Freshly ground black pepper (optional)
Instructions
Place the shrimp, 2 tablespoons of the olive oil, and the crushed red pepper in a medium bowl and toss to coat.
Bring a large pot of salted water to a boil.
Heat a large sauté pan over medium heat, add the shrimp in one layer, and sauté for 2 minutes. Flip the shrimp and cook until the shrimp are pink throughout, about 1 minute more. Transfer to a bowl.

Place the large sauté pan over medium heat, add the remaining 2 tablespoons olive oil, and sauté the garlic over low to medium heat for 1 minute. Pour in the wine and simmer for 2 minutes. Add the tomatoes, sugar, 1 teaspoon salt, and artichokes and stir to combine. Raise the heat to medium-high and simmer the sauce for 5 minutes, or until it starts to reduce.

While the sauce is simmering, cook the pasta according to package directions, reserving ½ cup (120 ml) of the pasta liquid. Place the pasta and shrimp into the sauce and stir to coat over low heat for 1 minute. Add the reserved pasta water if the sauce is too thick, and season with salt and black pepper, if desired.

Note: To defrost frozen shrimp, place the shrimp in the refrigerator overnight or cover with room temperature water and allow to sit out until defrosted, about 10 minutes, changing the water when it becomes too cold.

For even more depth of flavor, add 1 teaspoon dried basil or Italian herbs while making the tomato sauce, or fresh basil or parsley to finish the dish.

TO ENJOY LATER: The Fra Diavolo can be cooled and then refrigerated in an airtight container for up to 24 hours.