You must be signed in to print this content
Author:
Giada De Laurentiis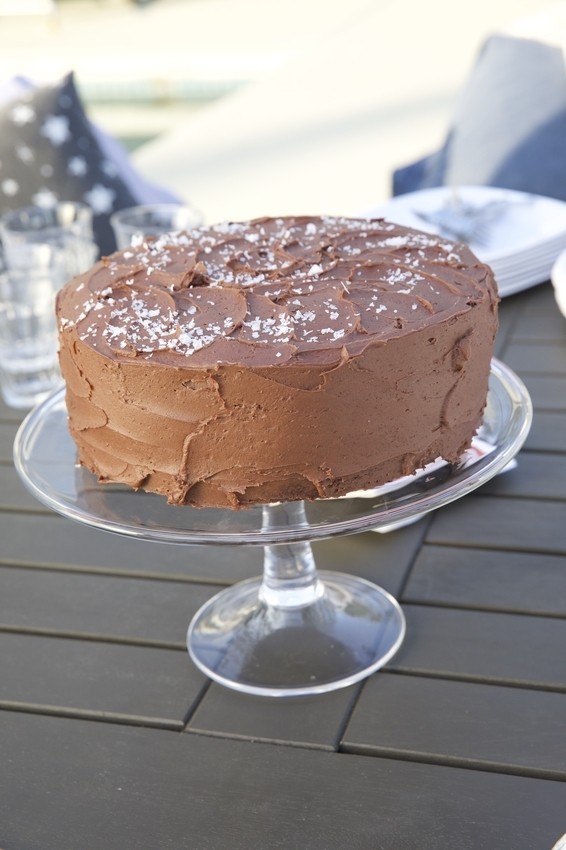 Ingredients
For The Cake:

3/4 cup 1 1/2 sticks unsalted butter, melted, plus extra for the pans
1 1/2 cups unsweetened cocoa powder (plus extra for the pans)
2 cups all-purpose flour
1 1/2 cups granulated sugar
1/2 cup packed light brown sugar
2 teaspoons baking soda
1 teaspoon baking powder
1 teaspoon kosher salt
4 large eggs (beaten)
1 cup sour cream
1 tablespoon instant espresso

For The Frosting:

1 1/4 cups 2 1/2 sticks unsalted butter, softened
3 cups confectioners' sugar
2/3 cup unsweetened cocoa powder
3 tablespoons heavy cream
1 teaspoon pure vanilla extract
1/2 teaspoon kosher salt
1 1/4 teaspoons flake salt
Instructions
This recipe originally appeared on Giada Entertains: Under the Stars Movie Night.
For the cake:
Preheat the oven to 350 degrees F. Butter the inside of two 9-inch round cake pans. Line the bottoms with parchment paper and butter that as well. Dust with cocoa powder, being sure to tap out the excess. Set aside.
Whisk together the cocoa, flour, granulated sugar, brown sugar, baking soda, baking powder and salt in a large bowl until there are no large lumps. Make a well in the center of the dry ingredients and add the eggs, melted butter, sour cream, instant espresso and 1 1/2 cups water. Slowly start to work everything together, adding the dry to the wet ingredients as you go until everything is combined and you have a smooth batter. Do not over mix. Divide evenly in the prepared cake pans and bake until a cake tester inserted in the center comes out clean, about 40 minutes. Allow to cool for 10 minutes in the pans. Unmold onto a wire rack and cool completely.
For the frosting:
Beat the butter in a medium bowl on medium speed using a hand-held mixer until light and fluffy. Add the confectioners', sugar, cocoa powder, heavy cream, vanilla and kosher salt and continue to beat on medium speed until light, fluffy and creamy.
Place one layer of cake on a plate or cake stand. Spread one-quarter of the frosting on the cake evenly all the way to the sides using a small offset spatula. Place the other layer of cake on top and press gently. Spoon the remaining frosting on top and spread evenly, pushing the frosting over the edge and spreading it around the sides. Refrigerate for at least 30 minutes before serving. Sprinkle the top evenly with the flake salt to serve.
Nutrition
Nutrition
Nutrition Serving Size

4
Amount/Serving
% Daily Value
Carbs

13 grams

Protein

11 grams

Fat

32 grams

Saturated Fat

5 grams

Cholestrol

39 milligrams

Sodium

941 milligrams

Fiber

3 grams

Sugar

4 grams