You must be signed in to print this content
Author:
Giada De Laurentiis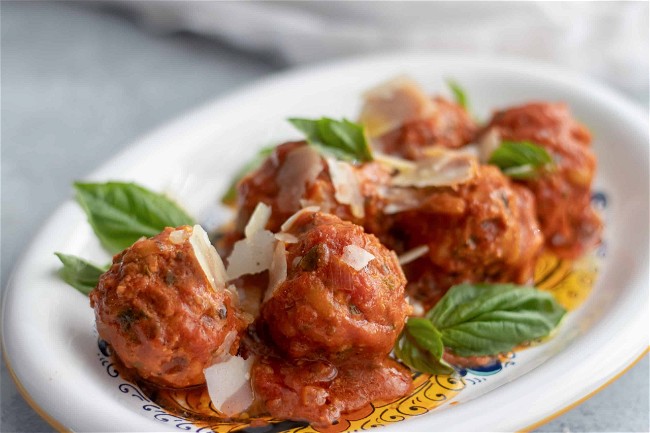 Ingredients
1 large or 2 small shallots (minced)
2 garlic cloves (minced)
1 large egg
1/4 teaspoon ground cinnamon
1/8 teaspoon ground nutmeg
1 pound ground chuck (20 percent fat)
¼ cup orzo pasta
½ cup whole-milk ricotta cheese
¼ cup fresh basil leaves (chopped, plus whole leaves for garnish)
¼ cup water
½ teaspoon kosher salt
¼ teaspoon freshly ground black pepper
1 23.5-ounce jar store-bought marinara
Shaved Parmigiano-Reggiano cheese
Instructions
Shaved Parmigiano-Reggiano cheese
In a medium bowl, whisk together the shallots, garlic, egg, cinnamon, and nutmeg. Using a wooden spoon, stir in the meat, orzo, ricotta, and basil. Add the water, salt, and pepper and mix well.
Bring the marinara to a simmer in a shallow 12-inch skillet. Form the meat mixture into heaping 1 tablespoon balls. Drop the meatballs into the simmering sauce. Cover the pot and allow them to simmer for 15 minutes. Serve 3 to 4 meatballs per person topped with shaved parm and garnished with fresh basil leaves.