Poached Pear And Prosciutto Crostini
You must be signed in to print this content
Poached Pear And Prosciutto Crostini
Author:
Giada De Laurentiis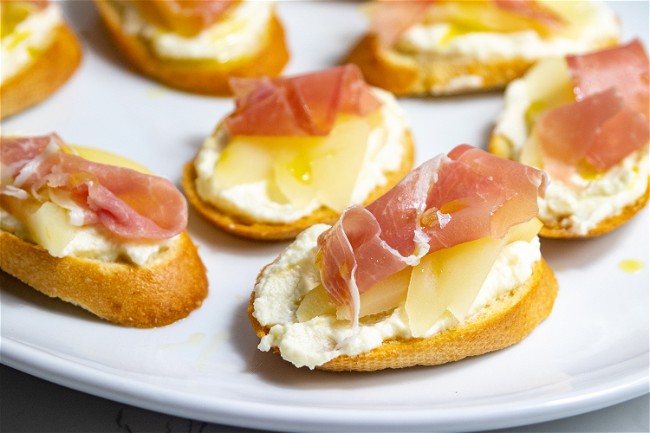 Ingredients
For The Pears:

2 cups grappa
½ cup sugar
8 whole cloves
1/8 teaspoon crushed red pepper flakes
8 black peppercorns
2 fresh rosemary sprigs
1 teaspoon grated orange zest
½ teaspoon kosher salt
3 small Forelle, (Bosc, or Red Bartlett pears, peeled, halved, and cored)

For The Crostini:

1 baguette

For The Ricotta Mixture:

1 15-ounce cup ricotta cheese

1 teaspoon lemon zest
¼ cup extra-virgin olive oil
1/2 teaspoon kosher salt

To assemble:

12 thin slices prosciutto, (torn into smaller pieces)
Extra virgin olive oil, (for drizzling)
Flakey sea salt, (for topping)
Instructions
For the pears, in a medium Dutch oven, combine 2 cups of water with the grappa, sugar, cloves, red pepper flakes, peppercorns, rosemary, orange zest and salt. Bring to a simmer over medium heat, stirring occasionally with a wooden spoon to help dissolve the sugar. Simmer for 5 minutes. Carefully place the pears in the poaching liquid, cut-side down. Place a circle of parchment paper on top of the liquid to keep the pears submerged and continue to simmer gently for 15 to 20 minutes. Turn off the heat and allow the pears to cool completely in the liquid. Once completely cooled, cut each pear into thin slices.
Preheat the oven to 400 degrees F.
On a slight bias, slice the baguette into 1/4-inch slices. Brush the slices with the 1/4 cup olive oil, then place on a baking sheet. Bake until golden brown and crunchy, 10 to 12 minutes. Set aside to cool.
In a small bowl, whisk together the ricotta, lemon zest, olive oil, 1/2 teaspoon salt, and honey. Set aside.
Once the crostini are cool, top each with 1 heaping tablespoon of ricotta mixture. Top with a few slices of the poached pear. Top with a few pieces of prosciutto, then drizzle with olive oil and a pinch of flakey sea salt.
Nutrition
Amount/Serving
% Daily Value
Carbs

16 grams

Protein

4 grams

Fat

9 grams

Saturated Fat

3 grams

Trans Fat

1 grams

Cholesterol

12 milligrams

Sodium

204 milligrams

Fiber

1 grams

Sugar

9 grams

Unsaturated Fat

6 grams