You must be signed in to print this content
Author:
Giada De Laurentiis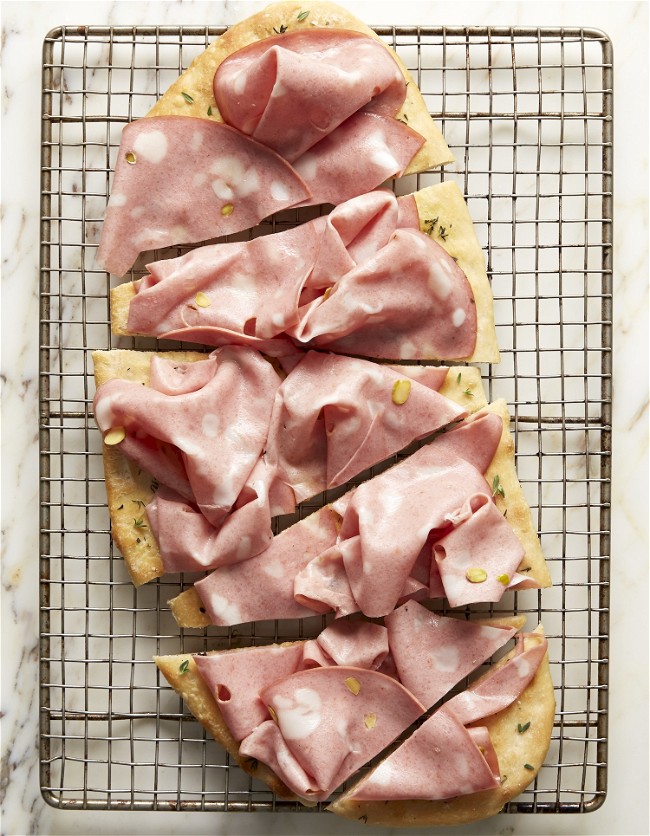 Ingredients
1 12 ounce dough ball
1/2 cup flour for the board
1/4 cup extra virgin olive oil
1/2 teaspoon whole thyme leaves
16 thin slices of Mortadella
1 teaspoon lemon zest (from one lemon, divided)
Instructions
As seen on: Giada in Italy, Episode 8. Favorites From Italy.
Divide the dough into 4 equal parts. Dust a board with flour and working one at a time, roll each dough ball into roughly a 6 inch round.
Heat the olive oil in a medium skillet over medium heat. Heat the pan for about 3 minutes to get it hot. Add one of the dough rounds to the hot pan. When the dough begins to bubble on the top and the bottom is golden brown flip to cook the other side. It will take 2 minutes per side to cook through. Remove the crust from the pan to a plate and grate 2 tablespoons parmesan evenly over the whole surface.
Sprinkle with a few thyme leaves and some lemon zest. Drape 4 slices of mortadella over the pizza. Continue with the remaining pizza dough.