Mediterranean Couscous Salad
Mediterranean Couscous Salad
Category
pasta pasta salad Salad side Side Dish
Author:
Giada De Laurentiis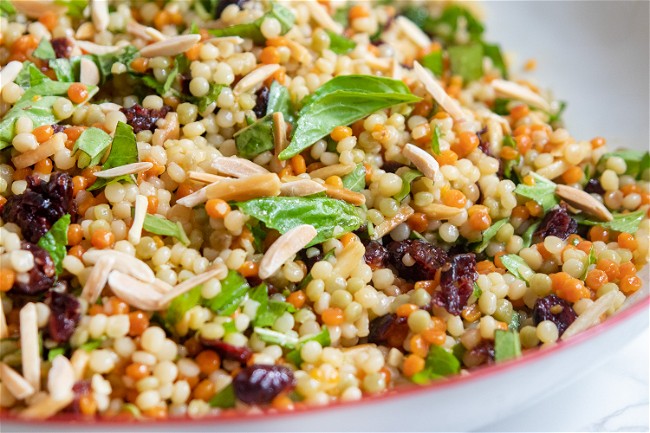 Ingredients
3 tablespoons extra-virgin olive oil (plus 1/4 cup)
2 cloves garlic (minced)
1 1-pound box Israeli couscous, (fregola, or orzo)
3 cups chicken or vegetable stock
2 lemons, (juiced)
1 lemon, (zested)
1/2 teaspoon freshly ground black pepper
1 cup chopped fresh basil leaves
1/2 cup chopped fresh mint leaves
1/4 cup dried cranberries
1/4 cup slivered almonds, (toasted)
Instructions
In a medium saucepan, warm 3 tablespoons of the olive oil over medium heat. Add the garlic and cook for 1 minute. Add the couscous and cook until toasted and lightly browned, stirring often, about 5 minutes. Carefully add the stock, and the juice of 1 lemon, and bring to a boil. Reduce the heat and simmer, covered, until the couscous is tender, but still firm to the bite, stirring occasionally, about 8 to 10 minutes. Drain the couscous.
In a large bowl, toss the cooked couscous with the remaining olive oil, remaining lemon juice, zest, salt, and pepper and let cool.
Once the couscous is room temperature, add the fresh herbs, dried cranberries, and almonds. Toss to combine and serve.
Nutrition
Amount/Serving
% Daily Value
Carbs

73 grams

Protein

14 grams

Fat

11 grams

Saturated Fat

2 grams

Cholesterol

4 milligrams

Sodium

375 milligrams

Fiber

6 grams

Sugar

7 grams

Unsaturated Fat

9 grams