You must be signed in to print this content
Category
dinner Main Course
Author:
The Giadzy Kitchen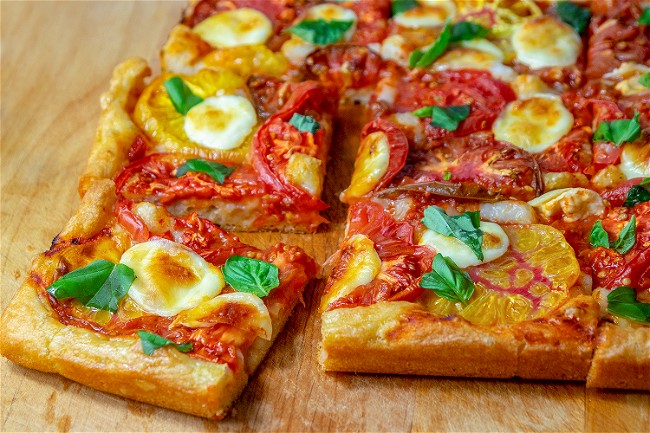 Ingredients
2 cups warm water, (at approximately 95 degrees F)
1 ¼ teaspoon kosher salt
3 to 4 large tomatoes, (sliced into rounds)
1 cup mozzarella ciliegine
½ cup fresh basil, (torn)
½ teaspoon kosher salt
Instructions
Add the bread flour, yeast and salt to the bowl of an electric mixer fitted with a dough hook. Turn the mixer on low speed for just 15-20 seconds to evenly distribute the ingredients. Add the warm water. Turn the mixer on low speed for about 5 minutes, making sure all of the ingredients are evenly incorporated with no clumps of flour. The dough will be very wet and sticky. Remove the bowl from the mixer, and cover with plastic wrap or a silicone lid.
Allow the dough to rest in a dry, warm place for 30 minutes. Once rested, wet your hands slightly to ensure the dough doesn't stick to your fingers. With one hand, scoop the edge of dough on the farthest side from you, and stretch slightly to gather it in the middle. Rotate the bowl slightly and continue this process until all edges of the dough have been folded to the center. Cover the bowl up again with the plastic wrap or silicone lid, and allow to rest for an additional 30 minutes or until doubled in size.
Prepare a baking sheet by adding 2 tablespoons of olive oil to the center, and use a pastry brush or fingers to evenly coat the pan, including the sides. Turn the focaccia dough out onto the oiled baking sheet, using a rubber spatula if necessary to get all of it out. With oiled hands, gently work the dough and stretch until it almost covers the whole pan. Don't worry if the dough retracts or doesn't reach the ends of the sheet. Be careful to try and not release bubbles in the dough during this process. Allow the dough to rest in a warm place, uncovered, for another 30 minutes.
Preheat the oven to 400 degrees F.
With oiled fingers, gently stretch the dough to cover the entire pan. Make indentations in the dough with your fingers to form dimples all throughout the dough. Evenly spread the pizza sauce over the dough, leaving a half inch edge around the border for a crust, working gently to try and not press the dough down too hard. Scatter the slices of tomato over the sauce, and dot with the mozzarella ciliegine. Evenly sprinkle the salt over the tomatoes.
Bake for 40-50 minutes, or until the crust is golden brown. Allow to cool for 10 minutes. Top with the fresh basil and a drizzle of olive oil over the whole pizza. Slice into squares and serve.
Nutrition
Amount/Serving
% Daily Value
Carbs

55 grams

Protein

13 grams

Fat

10 grams

Saturated Fat

2 grams

Cholesterol

6 milligrams

Sodium

910 milligrams

Fiber

4 grams

Sugar

4 grams

Unsaturated Fat

5 grams