You must be signed in to print this content
Author:
Giada De Laurentiis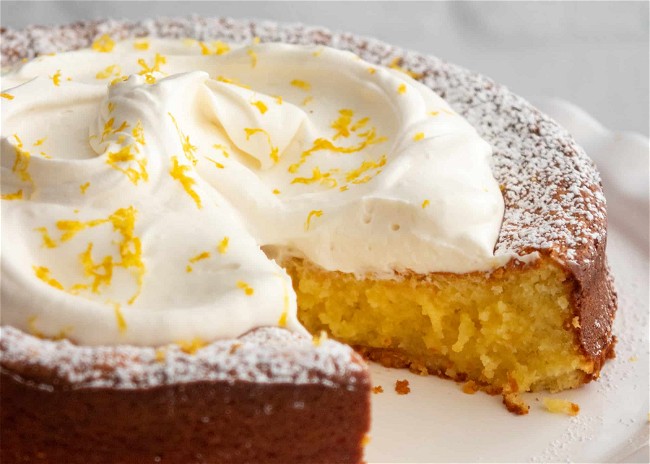 Ingredients
1 1/2 sticks (3/4cup unsalted butter)
6 ounces white chocolate (chopped)
5 eggs (divided)
1/4 teaspoon kosher salt
2/3 cup sugar
1 1/2 cups blanched almond flour
1/4 cup lemon juice (from 2 lemons)
4 teaspoons lemon zest (from 4 lemons)
Instructions
This recipe originated on an episode of Giada Entertains. Episode: Baby Shower Brunch.
Place the butter and chocolate in the top of a double boiler and melt until smooth. Cool slightly until just warm to the touch.
Preheat the oven to 350 degrees. Butter the inside of a 9 inch spring form pan.
Place the egg whites in a medium bowl with the salt. Place the yolks in a slightly larger bowl with the sugar. Using a handheld mixer beat the whites on medium speed until stiff peaks form, about 2 minutes. Transfer the mixer to the yolk bowl and beat on medium speed until light, pale and fluffy, about 1 1/2 minutes. Using a rubber spatula, stir the chocolate mixture, almond flour, lemon juice and lemon zest into the yolks. In 2 batches, fold the whipped whites into the chocolate base. Pour the mixture into the prepared pan and bake for 45 minutes or until puffed, golden brown and a toothpick inserted in the center comes out with just a few moist crumbs.
Cool completely on a wire rack. When cool, run a thin knife around the edge of the pan to release the cake. Remove the outside ring and dust the top with confectioners sugar. Serve with soft whipped cream if desired.
Nutrition
Amount/Serving
% Daily Value
Carbs

28 grams

Protein

7 grams

Fat

16 grams

Saturated Fat

5 grams

Cholesterol

85 milligrams

Sodium

105 milligrams

Fiber

2 grams

Sugar

24 grams