Lemon Bundt Cake with Chocolate Glaze and Candied Lemon
You must be signed in to print this content
Lemon Bundt Cake with Chocolate Glaze and Candied Lemon
Author:
Giada De Laurentiis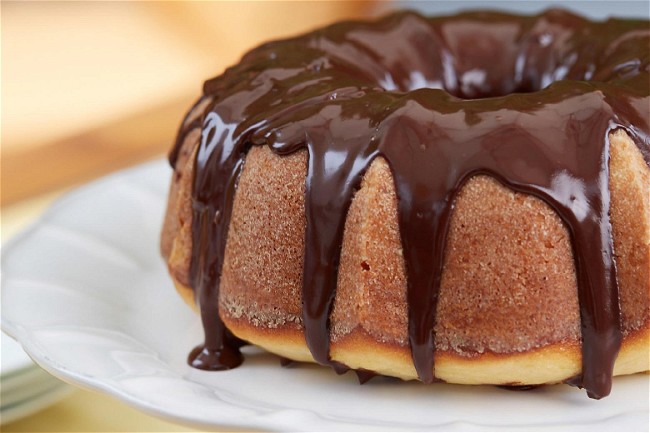 Ingredients
For the Candied Lemons:

1 1/2 cups water
1 1/2 cups sugar
2 lemons (sliced into 1/4-inch rounds)

For the Cake:

Vegetable spray
3 cups all-purpose flour (plus more for dusting the)
pan
1 teaspoon baking powder
1/2 teaspoon baking soda
1/2 teaspoon fine salt
1 cup buttermilk (at room temperature)
Zest of 2 lemons
1/3 cup fresh lemon juice (from 3 lemons)
1 teaspoon pure vanilla extract
1 cup 2 sticks unsalted butter, at room
temperature
2 cups sugar
4 eggs (at room temperature)

For the Chocolate Glaze:

1/2 cup bittersweet chocolate chips
1/2 cup whipping cream
Instructions
For the candied lemon: Combine the sugar and water in a small saucepan and bring to a boil over medium heat, stirring to dissolve the sugar. Add the lemon slices and simmer until tender, 5 to 8 minutes. Transfer to a wire rack to drain. Let cool to room temperature, about 15 minutes. Finely chop the candied lemon slices. Set aside.
For the cake: Preheat the oven to 350 degrees F. Lightly spray a nonstick Bundt pan with vegetable spray.
In a stand mixer fitted with a paddle attachment or using a hand mixer, beat together the butter and sugar on medium speed until light and fluffy, about 3 minutes. Mix in the eggs, one at a time, scraping down the sides of the bowl as needed. On low speed, slowly add the buttermilk and the vanilla. Stop the mixer, add the lemon zest and juice, and mix to incorporate. With the mixer on low, add the flour, one cup at a time, until combined. Finally, add the baking powder, baking soda and salt. Raise to medium speed and mix for 1 minute, until the batter is fluffy and smooth. Mix in the chopped candied lemons. With a spatula or wooden spoon, transfer the batter to the prepared Bundt pan and smooth out the top. Set the pan on the middle rack of the oven and bake until golden and a cake tester comes out clean, about 50 minutes. Let the cake cool on a wire rack for 30 minutes before turning it out onto a plate.
For the glaze: Place the chocolate chips in a medium bowl. Bring the cream to a simmer in a small saucepan over medium-high heat. Once bubbles have formed around the edges of the cream, pour it over the chocolate. Whisk the cream and chocolate together until smooth. Pour the glaze over the Bundt cake, using a spatula or spoon to push the glaze down the sides and center of the cake.