Hazelnut Crunch Cake with Mascarpone and Chocolate
You must be signed in to print this content
Hazelnut Crunch Cake with Mascarpone and Chocolate
Author:
Giada De Laurentiis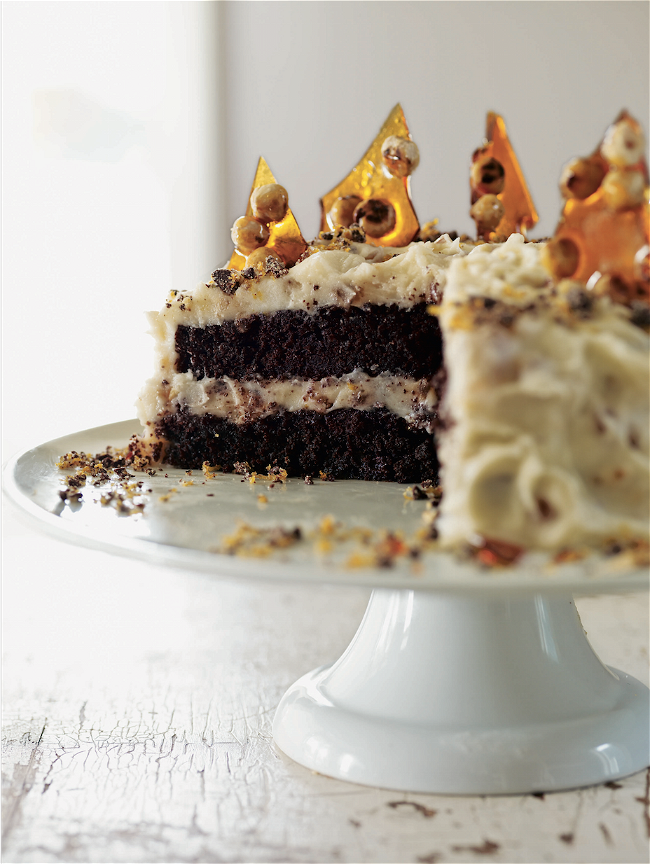 Ingredients
For the Cake:

1 box chocolate cake mix and any additional 1
ingredients needed to make the cake

For the Crunch:

2/3 cup granulated sugar

For the Filling:

2 8-ounce containers mascarpone cheese, at room temperature

1 cup heavy cream
3/4 cup confectioners' sugar
1 teaspoon pure vanilla extract

For the Topping:

1/4 cup bittersweet chocolate chips 1
1 tablespoon granulated sugar
1 teaspoon grated orange zest
Instructions
This recipe originally appeared in Giada's Kitchen by Giada De Laurentiis. Clarkson Potter, 2008.
Preheat the oven to 350 F. Butter and flour two 8-inch cake pans.
Prepare the cake mix according to package instructions. Divide the
batter between the cake pans and bake as directed. Remove from the
oven and cool on a wire rack.
To make the crunch, place the toasted nuts close together in a single
layer on a parchment-lined baking sheet. Combine the granulated
sugar and 1/3 cup of water in a small saucepan. Bring to a boil over
medium-high heat and stir until the sugar has dissolved. Continue to
boil the mixture until the sugar is light brown, about 8 minutes.
Remove from the heat and let the bubbles subside, then pour the
caramelized sugar over the nuts. Place the baking sheet in the
refrigerator and let the nut crunch cool until hard, about 30 minutes. When the nut crunch is hardened and cool, place it on a cutting board
and cut into small pieces, saving a few larger ones for decoration. Set
aside.
To make the filling, put the mascarpone, cream, confectioners' sugar,
and vanilla into a large mixing bowl. Using an electric mixer, whip the
cream mixture to soft peaks. Fold the chopped nut crunch into the
whipped cream.
To make the topping, place the chocolate chips, granulated sugar,
and zest in a food processor. Process the mixture until the chocolate
is finely ground.
To assemble the cake, put 1 cake layer on a serving plate or cake
stand. Top with a 1-inch layer of the whipped cream' hazelnut crunch
filling. Place the second layer of cake on top of the first and frost the
entire cake with the remaining filling. Sprinkle the top and sides of the
cake with the ground chocolate topping and add some shards of nut
crunch as decoration. Serve.
Nutrition
Nutrition
Nutrition Serving Size

8
Amount/Serving
% Daily Value
Carbs

85 grams

Protein

9 grams

Fat

44 grams

Saturated Fat

22 grams

Cholestrol

91 milligrams

Sodium

727 milligrams

Fiber

2 grams

Sugar

60 grams

Trans Fat

1 grams