Author:
Giada De Laurentiis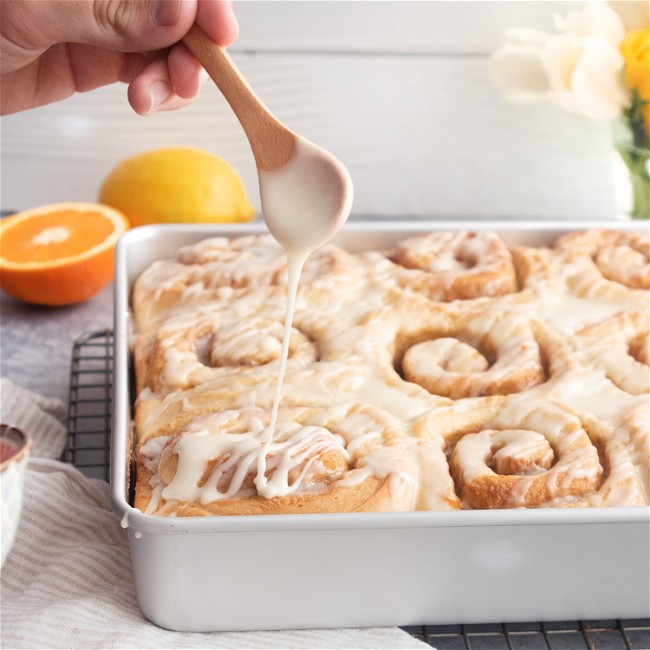 Ingredients
For the dough:

2 envelopes (4 1/2 teaspoons active dry yeast)
1 1/4 cup warm water
5 1/4 cups all purpose flour
1/2 teaspoon ground anise seed
1 teaspoon kosher salt
1/2 cup sugar
1/2 cup 1 stick melted unsalted butter
2 egg yolks
1 teaspoon pure vanilla extract
1/2 cup heavy cream (at room temperature)

For The Filling:

1 cup light brown sugar
1 teaspoon lemon zest (from 1 lemon)
1 1/2 teaspoon orange zest (from 1 orange)
1 teaspoon ground anise
1 teaspoon ground cinnamon
1/4 teaspoon kosher salt
1/2 cup 1 stick unsalted butter, softened

For The Icing:

2 cups powdered sugar
3 tablespoons freshly squeezed orange juice
Instructions
Sprinkle the active dry yeast over the warm water. Allow it to sit for 2 minutes or until it becomes creamy and starts to bubble.
Meanwhile, in the bowl of an electric mixer combine the flour, anise seed, salt and sugar. Stir together with a rubber spatula. In a separate bowl, whisk together the melted butter, egg yolks, vanilla and heavy cream. Add the wet ingredients and the active yeast to the dry ingredients. Using a rubber spatula, stir together to form a rough dough. Place on the mixer with a dough hook and kneed for 10 minutes or until the dough pull away from the sides but is still soft and silky. Cover with plastic wrap and set aside to double in size, about 1 hour.
In a bowl, mix together the brown sugar, lemon zest, orange zest, anise and cinnamon. Dust the counter lightly with flour. Pour the dough out on to the surface and dust the top of the dough with more flour. Gently, roll the dough in to a rectangle about 22 inches by 15 inches and a 1/3 inch thick. Spread the softened butter evenly over the dough leaving a 1/4 inch boarder around the edge. Sprinkle evenly with the brown sugar mixture. Starting at the end closest to you, begin rolling the dough away from you. Moisten the far edge with a little water and seal. You should have a log that looks like a pinwheel on the sides. Cut the log into 12 (2 inch) rolls.
Butter the inside of a 9 x 13 inch glass baking dish. Place the rolls in the pan and allow to double in size, about 30 minutes.
Preheat the oven to 350 degrees F.
Bake the rolls for 30 to 35 minutes or until golden brown and puffed. Allow to cool slightly while preparing the glaze.
In a small bowl, whisk together the powdered sugar and orange juice. Drizzle the glaze over the rolls and serve warm.
Nutrition
Nutrition
Nutrition Serving Size

12
Amount/Serving
% Daily Value
Carbs

83 grams

Protein

6 grams

Fat

12 grams

Saturated Fat

7 grams

Cholestrol

56 milligrams

Sodium

207 milligrams

Fiber

2 grams

Sugar

40 grams