You must be signed in to print this content
Author:
Giada De Laurentiis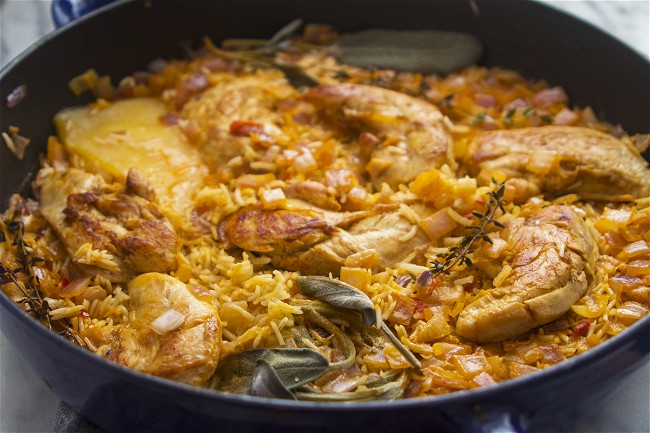 Ingredients
2 tablespoons unsalted butter
1 pound chicken tenders
1 teaspoon kosher salt divided
1 large red onion (diced)
2 garlic cloves (peeled and smashed)
1 cup basmati rice
1/2 teaspoon Calabrian chili paste
1 cup milk
1/2 cup low sodium chicken broth
2 sprigs of sage
3 sprigs of thyme
1 - 2 inch piece parmesan cheese rind
freshly grated parmesan cheese (for garnish)
Extra virgin olive oil (to finish)
Instructions
Heat a medium straight sided skillet over medium high heat. Add the butter and melt until the bubbles subside.
Season the chicken tenders evenly with 1/2 teaspoon of the salt. Add the chicken tenders to the pan in one layer. Cook the chicken for about 4 minutes per side or until golden brown. Do not worry about them being cooked through. Remove the chicken to a plate and set aside.
Reduce the heat to medium. Add the onion and garlic to the pan along with the remaining salt. Cook stirring often until softened and beginning to caramelize, about 4 minutes. Add the rice and chili paste and toast for an additional 2 minutes. Add the milk, chicken broth, sage, thyme and parmesan rind. Stir to combine. Nestle the chicken pieces and the juice back into the pan among the rice.
Cover the pan and reduce the heat to low. Simmer the mixture for 15 minutes. Turn off the heat and allow the mixture to steam for an additional 12 minutes. Remove the herbs and rind from from the pan, fluff the rice with a fork and serve with grated parmesan cheese and a drizzle of extra virgin olive oil.