You must be signed in to print this content
Category
main Main Course
Author:
Giada De Laurentiis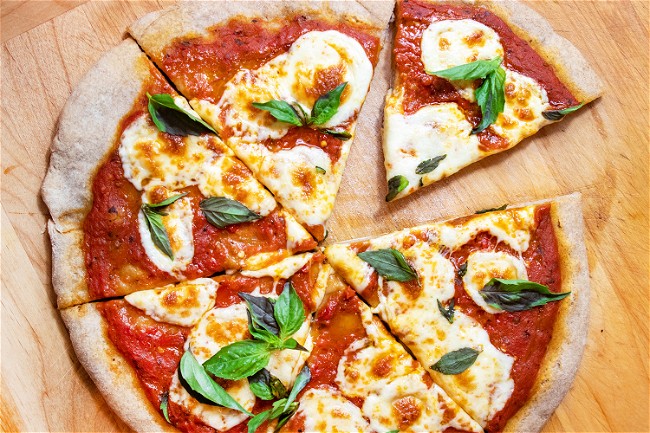 Ingredients
1 1/2 cups warm water
1 teaspoon kosher salt
Your desired pizza toppings, (such as pizza sauce, fresh mozzarella and basil, as pictured)
Instructions
In the bowl of an electric mixer fitted with a dough hook*, add the warm water, yeast and honey. Stir to combine. Allow the mixture to sit for 3 minutes to make sure the yeast is alive. It should foam and start to bubble.
Add the gluten free flour and salt to the bowl. Mix on low speed until the mixture starts to come together. Turn the speed up to medium and mix for 5 minutes. The dough should start to pull away from the sides but still remain soft and slightly sticky at the bottom of the bowl. Add an extra tablespoon or two of flour if needed.
Drizzle the tablespoon of olive oil into the bowl, making sure to coat the entire ball of dough with the olive oil. Cover with a kitchen towel and allow to rest for 5 minutes.
Roll the pizza dough out on a floured surface to your desired thickness. Transfer the dough to a baking sheet or pizza peel, and top with your favorite toppings. Bake at 500 degrees F for about 8 to 10 minutes, or until crisp and golden brown. Drizzle the crust with extra olive oil if desired. Slice and serve hot.

*Chef's Note: You can also prepare this dough by hand. Simply knead the dough for the same amount of time by hand.

*Chef's Note: If using Caputo Gluten Free Pizza Flour, you may need to add extra flour. Add more, one tablespoon at a time, until the dough pulls away from the sides of the bowl but remains soft and tacky.
Nutrition
Nutrition
Nutrition Serving Size

1 Serving
Amount/Serving
% Daily Value
Trans Fat

0 grams

Saturated Fat

0.7 grams
3%

Trans Fat

0 grams

Cholesterol

0 milligrams
0%

Sodium

424.1 milligrams
18%

Carbs

65.4 grams
22%

Fiber

2.3 grams
9%

Sugar

3.1 grams