Giada's 20-Minute Bolognese
You must be signed in to print this content
Giada's 20-minute bolognese
Author:
Giada De Laurentiis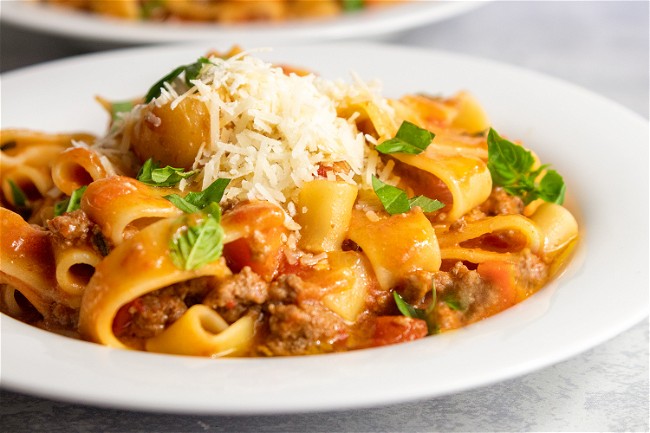 Ingredients
½ large or 1 small yellow onion, (chopped)
1 medium carrot, (chopped)
3 cloves garlic, (smashed and peeled)
2 teaspoons kosher salt, (divided, plus more for the pasta water)
1 pound ground beef
1 3- inch piece parmesan cheese rind
5-6 large basil leaves (torn)
1 cup freshly grated Parmesan or Pecorino cheese, (plus more for serving)
Instructions
Heat a medium dutch oven over medium high heat. Add the olive oil, and wait one minute for it to heat up. Add the onion, carrot and garlic to the pan and stir to combine. Season with 1 teaspoon salt and cook for 4 minutes or until the vegetables are soft and fragrant.
Add in the ground beef and break it up with a wooden spoon. Cook until completely cooked through, continuing to break it up as you stir, for about 3 minutes.
Stir in the canned cherry tomatoes. Before discarding the cans, fill each one up with ¼ cup of water and swirl around to get the remaining bits of tomato sauce, and add that to the pan as well. Either use the spoon to gently break them up or scissors to cut them up in the pan. Nestle in the parmesan rind and basil. Season with the remaining 1 teaspoon salt. Reduce the heat the medium and simmer the sauce for about 10 to 15 minutes, until slightly thickened.
Meanwhile, bring a large pot of water to a boil over high heat. Season generously with kosher salt. Add the pasta to the water and cook according to package instructions for aldente pasta. Using a slotted spoon or spider, add the pasta directly from the pasta water to the sauce. Add the Pecorino or Parmesan cheese directly to the bare pasta. Toss the pasta with the sauce to coat, thinning if needed with the pasta water to ensure it clings to the pasta. Serve drizzled with more olive oil and sprinkled with more parmesan cheese and basil if desired.
Nutrition
Amount/Serving
% Daily Value
Carbs

65 grams

Protein

30 grams

Fat

28 grams

Saturated Fat

10 grams

Trans Fat

1 grams

Cholesterol

65 milligrams

Sodium

1294 milligrams

Fiber

4 grams

Sugar

6 grams

Unsaturated Fat

15 grams