You must be signed in to print this content
Author:
Giada De Laurentiis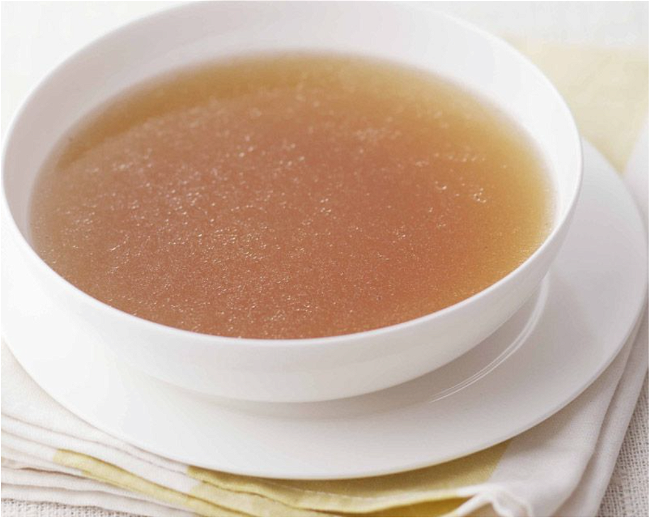 Ingredients
2 teaspoons vegetable oil
3 or 4 chicken carcasses (or 2 to 3 pounds chicken bones)
2 tablespoons grapeseed oil
2 small yellow onions (unpeeled and halved 2 carrots, cut into 4 pieces)
3 celery stalks (cut into 6 pieces)
7 garlic cloves (unpeeled and smashed)
5 sprigs fresh thyme
8 parsley stems
1 bay leaf
4 black peppercorns
Instructions
Preheat the oven to 450°F. Grease a rimmed baking sheet with 2 teaspoons vegetable oil. Spread the bones or carcasses on the tray and roast for 20 to 25 minutes, or until they're golden brown. Remove from the oven.
Place a stockpot over high heat and add the grapeseed oil. Place the onion halves cut-side down in the hot pan and with a wooden spoon push down on them so that the entire surface of the onion makes contact with the bottom of the pan. Allow to cook until they're a very deep brown and almost charred. Add the carrots, celery, garlic, thyme, parsley, bay leaf, and black peppercorns, and stir to combine.
Add the bones to the pot and cover with cold water. Reduce the heat to medium and bring the stock to a simmer. As soon as it simmers, reduce heat to medium low, just to maintain a gentle simmer. Using a shallow spoon, skim the surface to remove any impurities and fat as needed. Continue to simmer for 3 to 4 hours.
Remove the pot from the heat. Ladle the stock through a fine-mesh strainer. Discard the solids. Cool the stock completely and if not using immediately, store in the refrigerator for up to 4 days or freeze for up to 2 months.
Nutrition
Nutrition
Nutrition Serving Size

3
Amount/Serving
% Daily Value
Carbs

11 grams

Protein

84 grams

Fat

180 grams

Saturated Fat

50 grams

Cholestrol

461 milligrams

Sodium

412 milligrams

Fiber

3 grams

Sugar

3 grams