Cranberry Orange Glazed Turkey
You must be signed in to print this content
Cranberry Orange Glazed Turkey
Author:
Giada De Laurentiis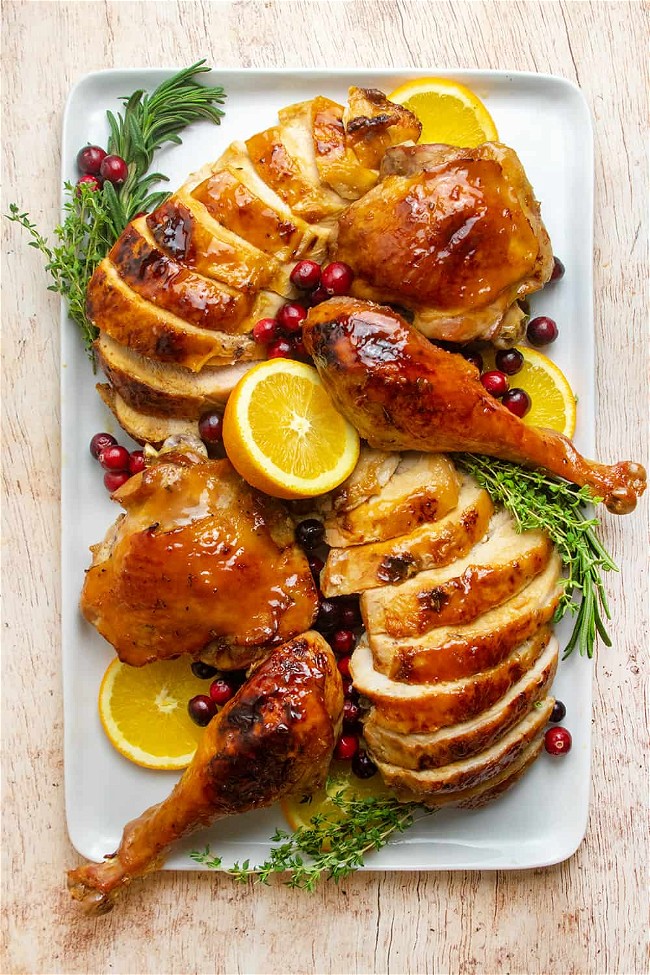 Ingredients
1 1/2 teaspoons kosher salt
One 11-pound turkey (cut into 6 pieces)
2 tablespoons extra-virgin olive oil
3/4 teaspoon freshly ground black pepper
Cranberry-Orange Glaze (recipe follows)
1 cup low-sodium chicken broth
Assorted fresh herb sprigs (for garnish)
orange wedges (for garnish)
whole cranberries (for garnish)

For The Cranberry Orange Glaze:

1/2 cup frozen orange juice concentrate (thawed)
1/2 cup frozen cranberry juice cocktail concentrate (thawed)
1/4 cup orange marmalade
1 1/4 teaspoons chopped fresh rosemary
1 tablespoon butter
1/4 teaspoon kosher salt
1/8 teaspoon freshly ground black pepper
Instructions
Position an oven rack in the bottom third of the oven. Preheat the oven to 400 degrees F.
Rinse the turkey pieces and pat very dry with paper towels. Brush the turkey all over with the oil, and then sprinkle with the salt and pepper. Arrange the turkey pieces, skin-side up, on a baking sheet with the thick end of breasts and thighs at the corners and the drumsticks in the center. Roast for 1 hour and 10 minutes.
Remove the turkey from the oven and brush with the Cranberry-Orange Glaze. Pour the broth onto the baking sheet to prevent the drippings from burning and roast the turkey 20 more minutes, covering loosely with foil if browning too quickly, until an instant-read thermometer registers 165 degrees F to 170 degrees F in the thickest part of the thigh (do not let the thermometer touch the bone).
Transfer the turkey to a platter. Brush generously with more glaze and let rest 25 to 30 minutes.
Meanwhile, scrape all the pan juices and browned bits from the baking sheet into a large measuring cup. Spoon off and discard the fat that rises to the surface. In a heavy, medium saucepan, heat the degreased pan juices over medium-high heat. Whisk 2 to 3 tablespoonfuls of the glaze into the pan juices (or more if desired) to make the gravy and bring to a simmer for the flavors to blend.
Slice the turkey and arrange on the platter. Garnish with the herb sprigs, oranges wedges and cranberries. Serve the turkey with the gravy.
Cranberry Orange Glaze:
In a small saucepan, bring the juices, marmalade and rosemary to a boil over medium-high heat. Boil until the glaze thickens enough to coat a spoon, whisking often, about 15 minutes. Remove from the heat. Whisk in the butter, and then season the glaze with the salt and pepper.
Nutrition
Amount/Serving
% Daily Value
Carbs

28 grams

Protein

113 grams

Fat

15 grams

Saturated Fat

3 grams

Cholesterol

286 milligrams

Sodium

1787 milligrams

Fiber

1 grams

Sugar

26 grams