You must be signed in to print this content
Author:
Giada De Laurentiis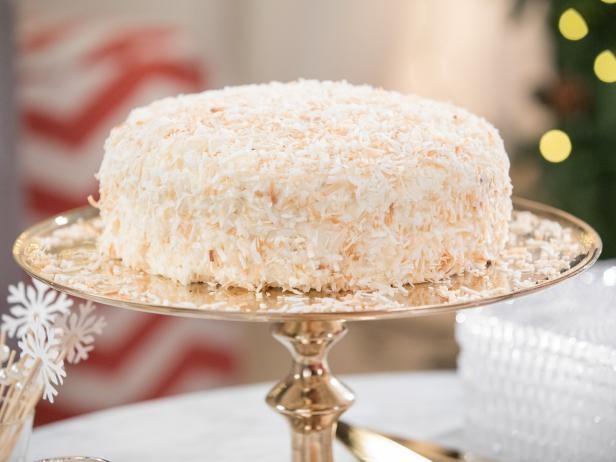 Ingredients
Nonstick spray
One 14-ounce bag sweetened shredded coconut (about 4 cups)
2 teaspoons instant espresso
1 1/4 cups water
One 15.25-ounce box chocolate fudge cake mix (such as Betty Crocker)
1/2 cup vegetable oil
3 eggs
Two 8-ounce blocks Neufchatel cream cheese (at room temperature)
1 stick (8 tablespoons unsalted butter, at room temperature)
1/3 cup coconut milk
1/2 teaspoon kosher salt
2 1/2 cups powdered sugar
Instructions
This recipe originally appeared on Giada's Holiday Handbook. Episode: Christmas Cocktails.
Special equipment: two 9-inch cake pans
Preheat the oven to 350 degrees F. Spray two 9-inch cake pans with nonstick spray and line the bottoms with parchment paper.
Sprinkle half of the shredded coconut on a baking sheet. Toast in the oven until golden brown, stirring often, about 15 minutes. Let cool on the baking sheet.
Combine the instant espresso and water in a measuring cup, stir until dissolved. Add to a medium bowl, along with the cake mix, vegetable oil and eggs. Beat for 2 minutes with a handheld mixer on medium speed. Divide the batter between the prepared cake pans and smooth the tops.
Bake until a toothpick inserted in the center of a cake comes out clean, about 25 minutes. Allow the cakes to cool in the pans for 10 minutes, then invert onto a baking rack and let cool completely.
Meanwhile, combine the cream cheese, butter, coconut milk, salt and powdered sugar in a large bowl. Beat with a handheld mixer on medium speed until light, fluffy and smooth, about 4 minutes. Stir in the remaining (untoasted) coconut with a rubber spatula.
If the cakes have domed in the center, trim to level the tops. Place one cake layer, up-side down, on a platter or plate. Spoon one-third of the frosting on top and spread evenly, almost completely to the edge. Place the other layer, up-side down, on top, pressing gently to anchor. Using an offset spatula, evenly frost the entire cake, if the frosting gets too soft, place it in the refrigerator for 15 minutes. Gently press the toasted coconut around the outside of the cake and sprinkle it over the top.
Refrigerate for at least 1 hour before serving.