You must be signed in to print this content
Author:
Giada De Laurentiis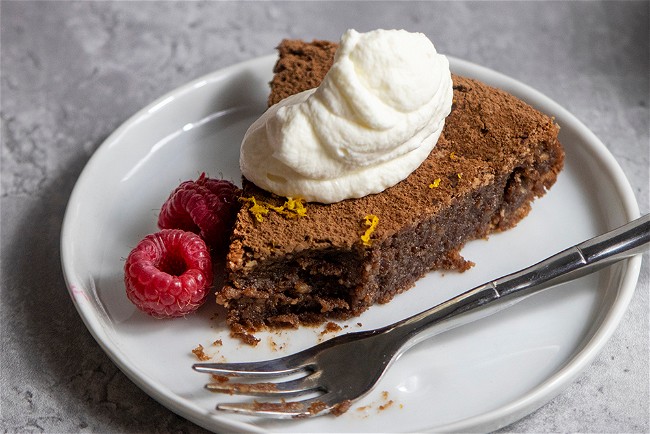 Ingredients
Nonstick cooking spray
3/4 cup bittersweet chocolate or semisweet chocolate chips
1 cup slivered almonds
1 stick, (1/2 cup unsalted butter, room temperature)
2/3 cup sugar
2 teaspoons grated orange peel
4 large eggs
Unsweetened cocoa powder, (for sifting)
Chocolate shavings for topping, if desired
Orange zest for topping, if desired
Freshly whipped cream for topping, if desired
Instructions
Preheat the oven to 350 degrees F.
Spray a 9-inch springform pan the nonstick spray. Refrigerate. Microwave the chocolate until melted and smooth, stirring every 20 seconds, for about 1 minute.
Combine the almonds and cookies in processor. Pulse until the almonds and cookies are finely ground. Transfer the nut mixture to a medium bowl. Add the butter and sugar to the processor and blend until creamy and smooth. Add the grated orange peel and pulse briefly, until incorporated. Add the eggs 1 at a time. Blend until the eggs are incorporated. Clean the sides of the mixing bowl and blend again. Add the nut mixture and melted chocolate. Pulse until blended. Clean the sides of the bowl. Blend again.
Pour the batter into the prepared pan. Bake until the center puffs and a tester inserted into the center of the cake comes out clean, about 35 minutes. Cool the cake in the pan for 15 minutes.
Transfer the cake to a platter. Sift the cocoa powder over and serve with orange zest, chocolate shavings or freshly whipped cream if desired.
Nutrition
Amount/Serving
% Daily Value
Carbs

86 grams

Protein

17 grams

Fat

30 grams

Saturated Fat

13 grams

Trans Fat

1 grams

Cholesterol

165 milligrams

Sodium

187 milligrams

Fiber

6 grams

Sugar

69 grams

Unsaturated Fat

14 grams