Author:
Giada De Laurentiis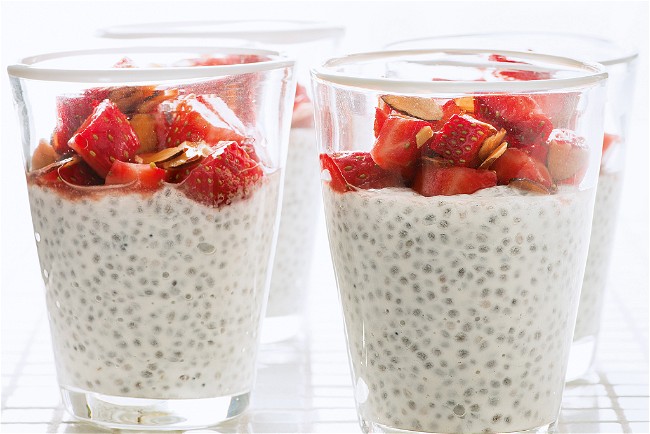 Ingredients
1 cup vanilla-flavored unsweetened almond milk
1 cup plain low-fat (2% Greek yogurt)
2 tablespoons pure maple syrup (preferably grade B, plus 4 tablespoons for serving)
1 teaspoon pure vanilla extract
1/8 teaspoon kosher salt
1/4 cup chia seeds
1 pint strawberries (hulled and diced)
1/4 cup sliced almonds (toasted)
Instructions
In a medium bowl, gently whisk the almond milk, yogurt, 2 tablespoons maple syrup, vanilla, and salt until just blended. Whisk in the chia seeds. Let stand for 30 minutes. Stir to distribute the seeds if they have settled. Cover and refrigerate overnight.
The next day, in a medium bowl, toss the berries with the remaining 4 tablespoons maple syrup. Mix in the almonds.
Spoon the pudding into 4 bowls or stemmed pudding glasses, mound the berry mixture on top, and serve.