Brown Rice Stuffed Bell Peppers
You must be signed in to print this content
Brown Rice Stuffed Bell Peppers
Category
dinner Main Course
Author:
Giada De Laurentiis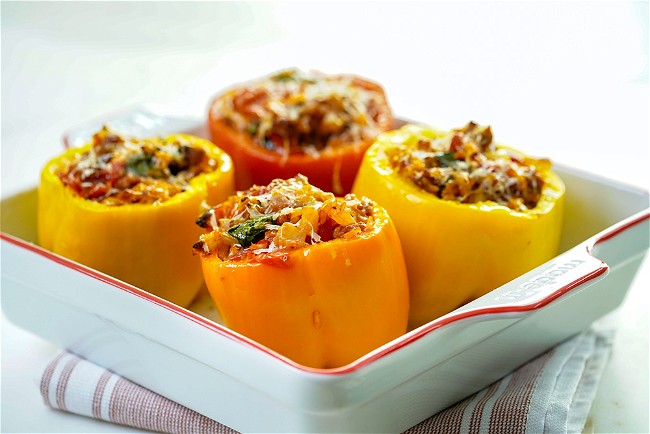 Ingredients
4 medium red, (yellow or orange bell peppers)
1 1/4 teaspoons kosher salt, (divided)
Half a pound plant-based ground meat, (such as Beyond Meat)
2 shallots, (chopped)
1 fennel, (cut into 1/3-inch pieces)
1 cup baby spinach, (chopped)
1/4 cup fresh basil leaves, (chopped)
1/4 teaspoon freshly ground black pepper
3/4 cup grated Provolone piccante cheese or mozzarella cheese
Instructions
Preheat the oven to 375 degrees F.
Cut off the top 1/3 inch of each pepper, remove and discard the seeds. If needed, cut a small amount of the bottom off each pepper so that they sit flat. Season the insides evenly with 1/4 teaspoon salt. Nestle the peppers inside an 8-inch baking dish and set aside.
Heat a large skillet over medium-high heat. Add the oil and heat another minute. Add the plant-based meat and use the back of a wooden spoon to break apart the meat into small pieces. Cook, stirring occasionally, until the meat is browned, about 5 minutes. Add the shallots, fennel, oregano and 1 teaspoon salt and cook another 4 minutes or until fragrant and the vegetables begin to soften. Stir in the rice, tomatoes, spinach, Parmigiano-Reggiano cheese, basil and pepper and cook until the spinach is wilts and the cheese is melted. Divide the mixture among the peppers. Top with the Provolone piccante. Add 1/2 cup of water to the bottom of the pan. Bake the peppers for 40 minutes or until the cheese is melted and peppers are soft but not falling apart. Serve hot.
Nutrition
Amount/Serving
% Daily Value
Carbs

40 grams

Protein

17 grams

Fat

12 grams

Saturated Fat

3 grams

Cholesterol

12 milligrams

Sodium

1259 milligrams

Fiber

9 grams

Sugar

11 grams

Unsaturated Fat

7 grams