Beef Tenderloin With Red Wine-Rosemary Butter
You must be signed in to print this content
Beef Tenderloin With Red Wine-Rosemary Butter
Author:
Giada De Laurentiis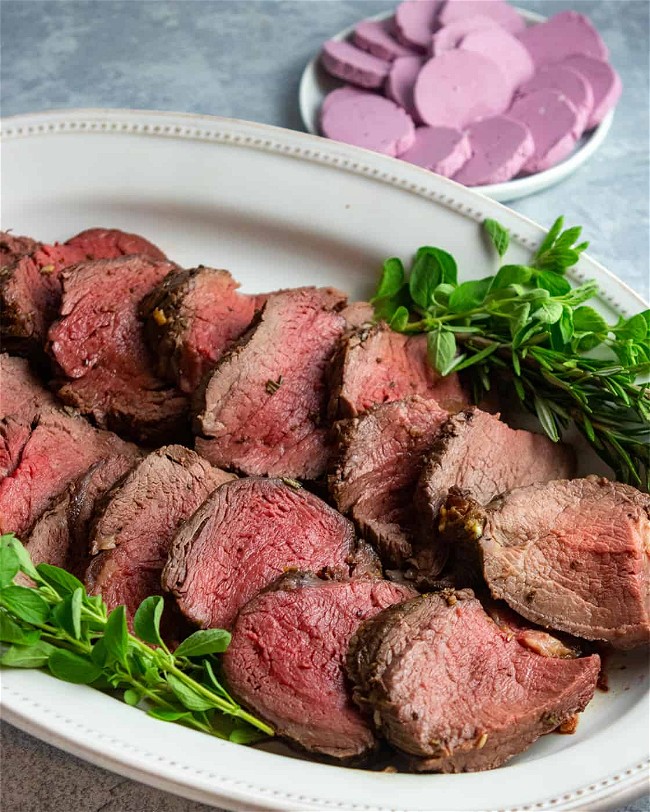 Ingredients
For the red wine–rosemary butter:

1 cup 8 fl. oz./250 ml dry red wine
1 sprig fresh rosemary
2 sticks (8 oz./250 g unsalted butter, at room temperature)
1 tsp. kosher salt

For the beef tenderloin:

3 Tbs. olive oil
3 garlic cloves (minced)
1 Tbs. finely chopped fresh rosemary
1 Tbs. kosher salt
1/2 tsp. freshly ground pepper
1 center-cut beef tenderloin (about 3 lb. (1.5 kg), trimmed and tied)
Instructions
To make the red wine–rosemary butter, in a small saucepan over medium heat, combine the wine and rosemary sprig. Bring the wine to a boil and then simmer until the wine has reduced to a syrup and measures approximately 2 Tbs., about 20 minutes. Allow the wine to cool to room temperature. Place the butter and salt in a food processor and pulse to combine. Add the wine and process until the mixture is smooth, about 1 minute.
Scrape the butter into a line on a large sheet of parchment paper. Fold the parchment over the butter and drag a clean spatula down along the line of butter to push it into a log. Twist both ends of the parchment to seal the ends and refrigerate the butter until ready to use, at least 1 hour.
To prepare the beef tenderloin, place a rack in the center of the oven and preheat the oven to 400°F (200°C).
In a small bowl, stir together 2 Tbs. of the olive oil, the garlic, rosemary, salt and pepper. Rub the mixture all over the tenderloin.
In a large fry pan over medium-high heat, warm the remaining 1 Tbs. olive oil. Sear the tenderloin on all sides until browned, about 3 minutes per side.
Transfer the pan to the oven and roast until an instant-read thermometer inserted into the thickest part of the meat reads 125°F (52°C) for medium rare, 30 to 35 minute. Remove from the oven and transfer the meat to a cutting board. Cover the roast loosely with foil and let rest for 20 minutes.
To serve, slice the meat into slices 1/4 inch (6 mm) thick and arrange on a platter. Slice the butter into rounds 1/8 inch (3 mm) thick and arrange on top of the warm meat slices. Serves 6.
Nutrition
Amount/Serving
% Daily Value
Carbs

2 grams

Protein

41 grams

Fat

57 grams

Saturated Fat

21 grams

Cholesterol

159 milligrams

Sodium

1595 milligrams

Sugar

1 grams