You must be signed in to print this content
Author:
The Giadzy Kitchen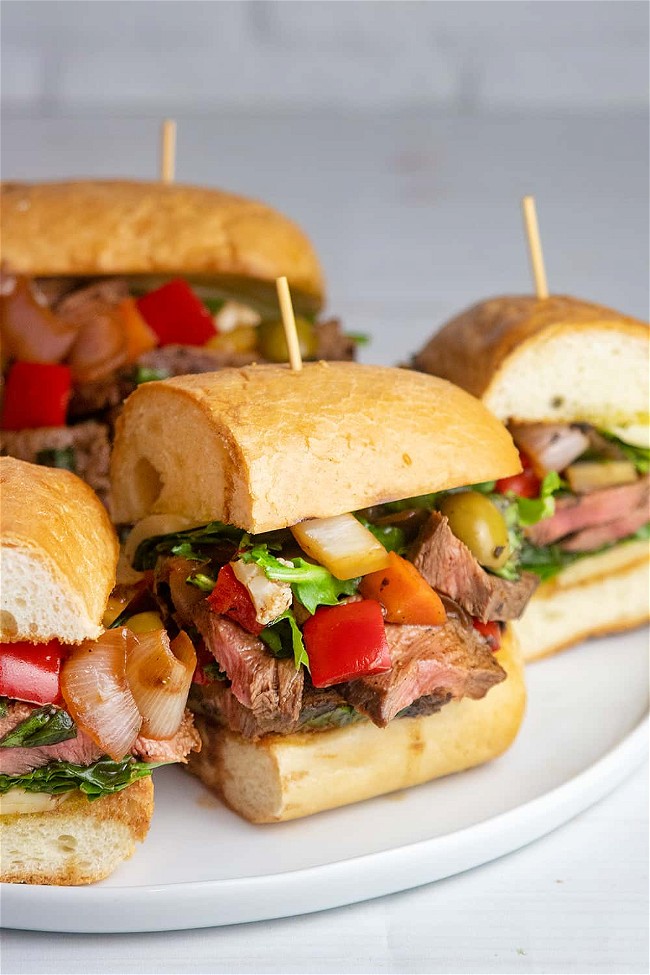 Ingredients
For the rolls:

3 hoagie rolls

For the filling:

1 pound flat iron or flank steak
1 red onion sliced 1/3 inch thick
1 1/2 teaspoons kosher salt divided
1 teaspoon olive oil for grilling onions, (plus 2 tablespoons for the giardiniera mix)
1 ½ cups giardiniera (chopped, such as Morgan's)
1/2 cup chopped basil
9 slices provolone cheese
3 cups loosely packed baby arugula
Instructions
Pull the flank steak out of the refrigerator 30 minutes before cooking. Preheat a grill or grill pan to medium high heat. Halve the rolls horizontally. Drizzle the rolls evenly with the olive oil and grill for 2 to 3 minutes or until lightly toasted. Set aside.
Season the steak evenly on both sides with 1 teaspoon of the kosher salt. Season the onion slices with 1 teaspoon olive oil and the remaining 1/2 teaspoon salt being careful to keep them intact so they are easier to grill. Place the meat and the onions on the grill and grill and cook for 4 to 5 minutes per side, or until an instant read thermometer reads 135 degrees F. Remove the onions for the grill when they are deep golden brown on both sides. Allow the meat to rest for 10 minutes before slicing.
Meanwhile, in a large bowl combine the remaining 2 tablespoons olive oil, chopped anchovies, oregano, balsamic, giardiniera, olives and basil. Mix well to combine. Thinly slice the rested steak against the grain. Add the sliced steak, grilled onions and any accumulated juices from the plate to the bowl with everything else. Toss well to combine.
Place two slices of provolone on each toasted roll. Fill each roll with 1 cup of arugula. Divided the steak filling with all of the mixture evenly among the 3 rolls. Cut them in half and serve.
Nutrition
Amount/Serving
% Daily Value
Carbs

61 grams

Protein

30 grams

Fat

46 grams

Saturated Fat

10 grams

Trans Fat

1 grams

Cholesterol

70 milligrams

Sodium

1985 milligrams

Fiber

1 grams

Sugar

4 grams