Whipped Pea Crostini With Prosciutto
You must be signed in to print this content
Whipped Pea Crostini With Prosciutto
Author:
Giada De Laurentiis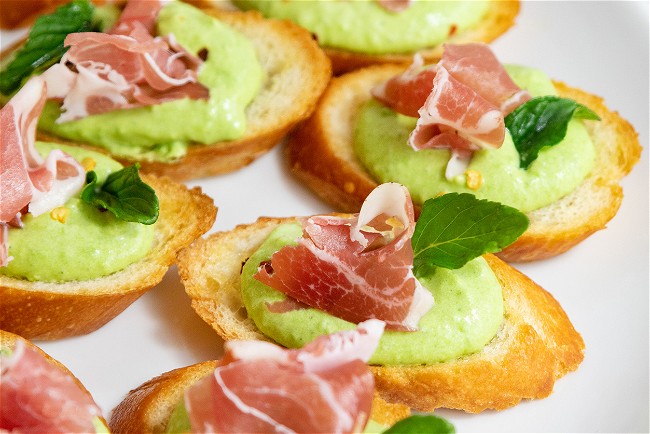 Ingredients
For The Topping:

2 cups chicken broth or water
1 teaspoon red pepper flakes
1 16-ounce bag frozen peas
1/4 cup fresh chopped mint
3/4 teaspoon salt
1/2 teaspoon freshly ground black pepper
1/2 cup whipping cream
3 ounces finely diced prosciutto

For The Crostini:

1 baguette, (sliced into 1/2-inch thick slices)
Extra-virgin olive oil, (for drizzling)
3 to 4 cloves garlic
Instructions
For the Sweet Peas: Warm the chicken broth and red pepper flakes in a medium saucepan over medium-high heat until the broth boils. Add the frozen peas and cook until the peas are tender, about 5 minutes. Drain the peas in a mesh sieve.
Place the peas in a food processor with the mint, salt, and pepper. Puree the pea mixture. Place the pea puree in a medium bowl and refrigerate until cool, about 30 minutes.
Meanwhile, for the crostini: Preheat the oven to 375 degrees F. Place the baguette slices on a parchment paper-lined baking sheet in a single layer. Bake in the oven until toasted and golden around the edges, about 10 minutes. While the crostini are still warm, drizzle the tops with extra-virgin olive oil. Using a whole clove of garlic in your fingertips, rub the top of the crostini a few times to give a hint of garlic.
To finish, whip the cream until stiff peaks form. Fold the whipped cream into the pea puree. Top each of the crostini with about 1 tablespoon of pea puree. Sprinkle with a bit of the diced prosciutto. Serve immediately.
Nutrition
Amount/Serving
% Daily Value
Carbs

22 grams

Protein

6 grams

Fat

14 grams

Saturated Fat

7 grams

Trans Fat

1 grams

Cholesterol

32 milligrams

Sodium

653 milligrams

Fiber

1 grams

Sugar

3 grams

Unsaturated Fat

6 grams