You must be signed in to print this content
Author:
Giada De Laurentiis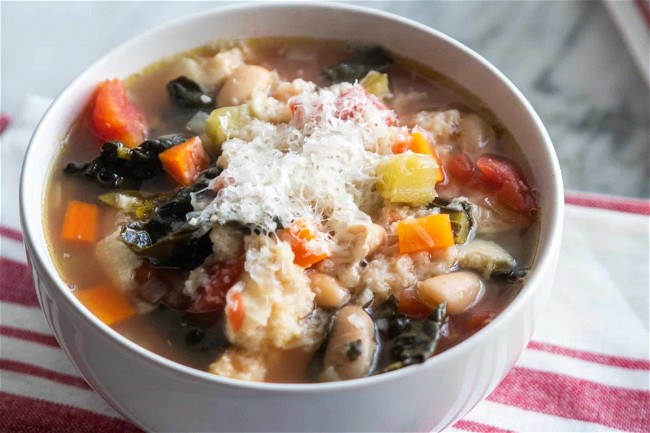 Ingredients
2 shallots (chopped)
2 carrots (peeled and cut into 1/3 inch pieces)
1 celery rib (cut into 1/3 inch pieces)
2 15 ounce cans cannellini beans, drained and rinsed
1 14 ounce can chopped tomatoes, such as Mutti
4 cups low sodium chicken broth
1 bay leaf
3 sprigs of thyme
1 2 inch parmesan cheese rind
1 bunch Tuscan kale (chopped)
3/4 teaspoon kosher salt
2 tablespoons extra virgin olive oil (to serve)
2 cups packed torn ciabatta bread (crusts removed)
freshly grated parmesan cheese (to serve)
Instructions
To a 4 quart slow cooker add the chopped shallots, carrots, celery, beans, tomatoes, broth, bay leaf, thyme, parmesan cheese rind, kale, salt and olive oil. Stir to combine. Set the slow cooker to 8 hours on low or 4 hours on high.
Remove the lid and stir in the bread and reset the slow cooker for 30 minutes on low. Remove and discard the parmesan rind, thyme sprigs and bay leaf. Serve ladled into bowls and topped with freshly grated parmesan cheese and a drizzle of olive oil.