You must be signed in to print this content
Author:
Giada De Laurentiis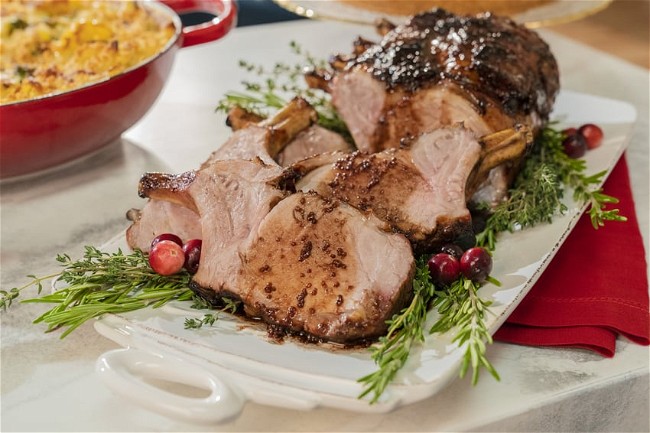 Ingredients
One 6- to 7-pound 8-rib bone-in center cut pork loin (chine bone removed, frenched)
2 carrots (halved lengthwise)
1/4 teaspoon ground cinnamon
1/4 teaspoon ground cloves
1 tablespoon plus 1/4 teaspoon kosher salt
2 cups pomegranate juice
4 sprigs fresh thyme
3 tablespoons maple syrup
2 tablespoons whole-grain mustard
Instructions
This recipe originated on Giada's Holiday Handbook. Episode: Giada's Holiday Challenge.
Remove the pork roast from the refrigerator 30 minutes before cooking.
Preheat the oven to 350 degrees F. Place the rack on the lower middle section of the oven.
Place the carrot halves on the bottom of a small roasting pan and set aside.
Trim off any thick areas of fat from the roast. Make shallow slits about 1 inch apart in a crosshatch on the meat of the roast. Mix together the cinnamon, cloves and 1 tablespoon salt in a small bowl. Sprinkle the seasoning mixture evenly over the roast and rub to coat. Place the roast on the carrots and add 1/2 cup water to the pan.
Roast for 1 hour, adding another 1/2 cup water if the pan gets dry.
Meanwhile, combine the pomegranate juice and thyme in a small saucepan. Place over medium heat and reduce by half, about 15 minutes. Stir in the maple syrup and mustard and continue to reduce until slightly thickened, another 3 to 4 minutes. Season with the remaining 1/4 teaspoon salt and remove and discard the thyme.
Baste the meat with the pomegranate mixture and roast until the internal temperature reaches 120 degrees F, another 30 minutes. Remove the roast from the oven and turn the oven up to 450 degrees F.
Baste the roast again with the pomegranate mixture. Return the roast to the hot oven for an additional 20 minutes, basting with the pomegranate sauce every 5 to 10 minutes until the internal temperature reaches 135 degrees F and the roast is evenly glazed. Remove the roast to a platter to rest for 10 minutes. Add any juices from the pan to the sauce and bring to a simmer over medium heat. Stir to combine. Slice the roast and serve with the sauce on the side.
Nutrition
Nutrition
Nutrition Serving Size

8
Amount/Serving
% Daily Value
Carbs

15 grams

Protein

89 grams

Fat

16 grams

Saturated Fat

5 grams

Cholesterol

250 milligrams

Sodium

254 milligrams

Fiber

1 grams

Sugar

13 grams