Polenta Waffles with All the Fixings
You must be signed in to print this content
Polenta Waffles with All the Fixings
Author:
Giada De Laurentiis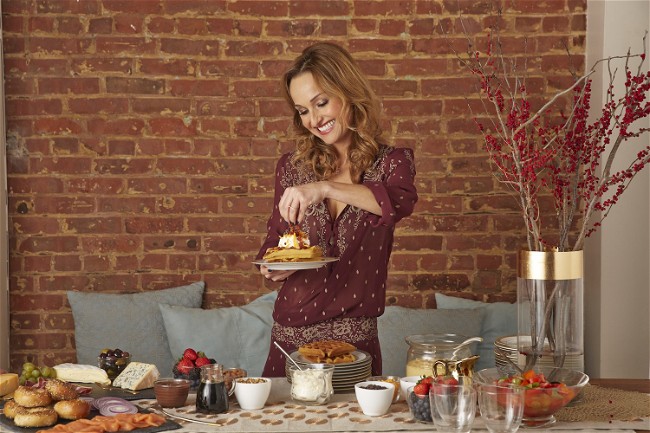 Ingredients
1 cup flour
1 cup polenta
1 tablespoon sugar
1 teaspoon baking powder
1 teaspoon baking soda
1/4 teaspoon ground cinnamon
1/2 teaspoon kosher salt
2 eggs (at room temperature, separated)
3/4 cup buttermilk (at room temperature)
3/4 cup low-fat milk
1 teaspoon vanilla extract
1/2 cup vegetable oil

For the Fixings:

Crispy pancetta (crumbled)
Crispy bacon (crumbled)
Strawberries (raspberries, and blueberries)
Grated cheddar cheese
Crumbled feta cheese
Chopped herbes
Dark chocolate chips
Chopped walnuts
Chocolate hazelnut spread
Maple syrup
Instructions
Heat the waffle iron. In a large bowl, whisk together the flour, polenta, sugar, baking powder, baking soda, cinnamon, and salt. In a separate bowl whisk or beat the egg whites until soft peaks form.
Form a well in the dry ingredients and add the egg yolks, buttermilk, milk, vanilla, and oil. Whisk the wet ingredients into the dry, being careful not to overmix. A few lumps are fine. With a large rubber spatula, gently fold the whites into the mixture just until to combined to maintain the airy texture. Ladle the mixture onto the preheated, sprayed waffle iron and cook according the waffle iron directions.
To serve, arrange your fixings ingredients in small bowls so guests can top their waffles as they like.