PLAT Sandwich (Pancetta, Lettuce, Avocado & Tomato)
You must be signed in to print this content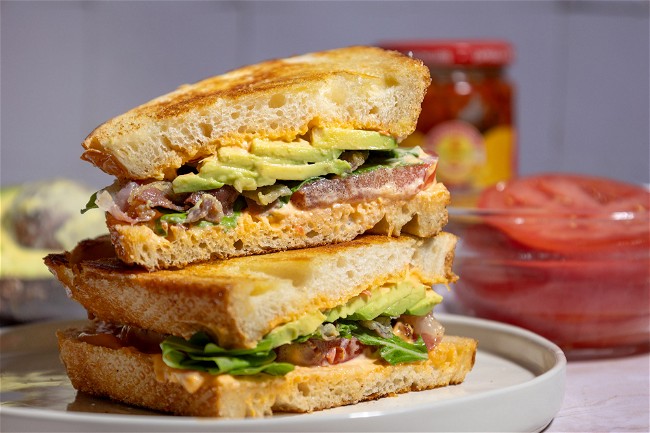 Ingredients
1/2 cup mayonnaise
1 teaspoon lemon zest
1/8 teaspoon kosher salt
8 thin slices pancetta
4 slices sourdough bread, toasted
1 large tomato, sliced into 1/3 inch slices
Pinch of flake salt, optional
1 cup baby arugula
1/2 avocado, sliced
Instructions
In a small bowl whisk together the mayonnaise, chili paste, lemon zest and salt. Set aside.
Heat a large skillet over medium heat. Add the oil and the pancetta to the pan and cook, flipping halfway through, until evenly golden brown and crispy, about 6 minutes. This can be done in batches if needed. Remove from the pan and drain on a paper towel lined plate.
Divide the spicy mayo evenly on the 4 slices of toast. Place two slices of tomato on each of
2 slices of toast and season with the flake salt if using. Divide the arugula on the tomatoes and shingle 4 slices of pancetta on top of each sandwich. Divide the avocado slices on the remaining pieces of toast and mash slightly. Close the sandwiches and cut each sandwich in half to serve.