Mascarpone Apple Crumble Torta
Mascarpone Apple Crumble Torta
Author:
The Giadzy Kitchen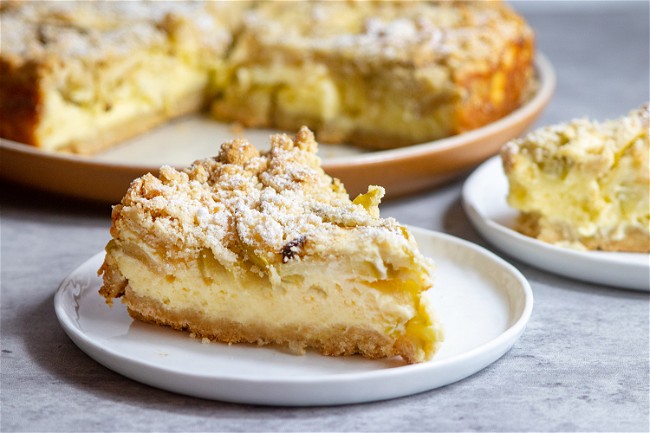 Ingredients
For The Crumble:

1 cup almond flour
¼ cup granulated sugar
½ teaspoon ground cinnamon
1 teaspoon baking powder
1/2 teaspoon kosher salt
4 ounces (1 stick) cold butter, diced into small pieces
2 tablespoons water

For The Filling:

8 ounces mascarpone, (at room temperature)
8 ounces cream cheese, (at room temperature)
¾ cup granulated sugar
2 large eggs, (at room temperature)
1 teaspoon vanilla extract
1 tablespoon apple cider vinegar
2 large granny smith apples, (sliced)
Powdered sugar, (to garnish)
Instructions
Preheat the oven to 350 degrees F, and set a rack to the middle of the oven.
To a large bowl, add the flour, almond flour, sugar, cinnamon, baking powder and salt. Add the cold butter and begin working it in with your fingers, smearing it slightly to make small streaks of butter with flour and pieces of butter. Once the butter is evenly worked in and there are remaining pieces of butter around the size of peas, add in the 2 tablespoons of water and continue to mix with your hands until evenly spread throughout. Be careful to not overwork the dough. The mixture should be loose and crumbly.
To the bottom of a 9-inch springform pan, add 2/3 of the crumble mixture, pressing down to form a crust. Bake in the oven for about 12 to 15 minutes, or until set until just slightly golden. Set aside to cool slightly.
Meanwhile, in the bowl of an electric mixer with a paddle attachment, add the mascarpone, cream cheese, and sugar. Mix on high until fluffy and combined, for about 1 minute. Add the eggs one at a time, scraping with a rubber spatula if necessary, and mix on high until the batter is very smooth and creamy. Add the vanilla and apple cider vinegar, and mix until incorporated.
Pour the mascarpone filling into the crust. Arrange the sliced apples over the top to cover the cheesecake filling, and finish by topping with the remaining 1/3rd of the crumble mixture.
Bake in the oven for one hour, or until the topping is golden brown and only the very center of the cheesecake jiggles slightly.
Allow the cheesecake to cool to room temperature. Refrigerate for at least 2 hours before serving. Remove from the springform pan, and dust with powdered sugar to serve.
Nutrition
Amount/Serving
% Daily Value
Carbs

43 grams

Protein

9 grams

Fat

43 grams

Saturated Fat

23 grams

Trans Fat

1 grams

Cholesterol

129 milligrams

Sodium

420 milligrams

Fiber

3 grams

Sugar

25 grams

Unsaturated Fat

8 grams