You must be signed in to print this content
Author:
Giada De Laurentiis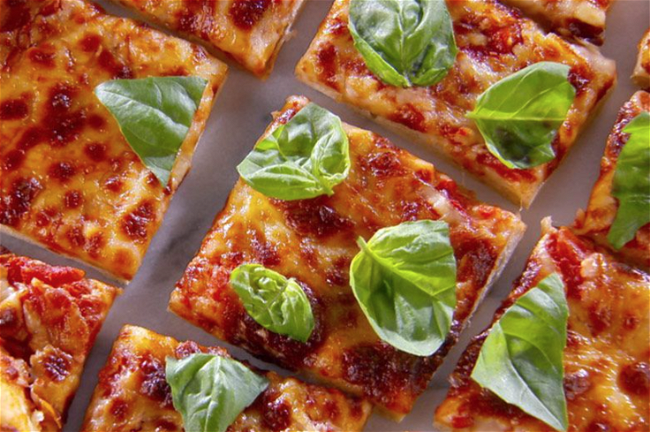 Ingredients
11 ⁄4-ounce packet active dry yeast
1 cup flour (plus more for dusting)
1 ⁄2 teaspoon kosher salt
1 ⁄2 teaspoon extra-virgin olive oil
One 15-ounce can crushed tomatoes
1 ⁄2 teaspoon kosher salt
2 sprigs fresh basil (leaves torn, plus 5 whole)
leaves
2 cups shredded mozzarella
Extra-virgin olive oil (for drizzling)
Instructions
Dissolve the yeast in 1 cup of warm water, after 5 minutes, it should look creamy and have bubbles forming on the surface. In the bowl of a stand mixer fitted with a dough hook attachment, combine the flour and salt. Add the yeast-water mixture and mix until well combined. Continue mixing for another 3 minutes. (The dough will be very soft and loose.)
Pour the dough onto a heavily floured board and begin to knead, adding flour as necessary. The dough should take an additional 1⁄4 cup flour and the kneading will take about 5 minutes. Form the dough into a ball and place it in a bowl with the olive oil brushed on the inside. Cover the bowl with plastic wrap and set it aside in a warm, dry place for 1 hour.
Gently punch down the dough and fold it over on itself three or four times. It will again be soft and a little sticky, coat your hands with flour if they stick. Divide the dough into two balls and return to the bowl. Cover with plastic wrap and allow to rise again for an additional 30 minutes.
Preheat the oven to 475°F. Set an oven rack in the lower third of the oven. Place the dough balls on a well-floured work surface (the dough should still be quite soft and sticky, so sprinkle some flour on the top of the dough to make it easier to work with). Gently roll out the dough into a 10-inch circle and transfer it to a round, perforated pizza pan.
Using a potato masher, mash the tomatoes in a medium bowl until smooth. Add the salt and torn basil leaves. Spoon the sauce evenly over one of the rolled-out pizza crusts. Sprinkle the mozzarella over the sauce and drizzle with olive oil. Bake for 10 to 12 minutes.
Once out of the oven, arrange the fresh basil on the pizza. Slice and serve hot.
Nutrition
Amount/Serving
% Daily Value
Carbs

22 grams

Protein

12 grams

Fat

9 grams

Saturated Fat

5 grams

Cholesterol

29 milligrams

Sodium

328 milligrams

Fiber

2 grams

Sugar

4 grams