You must be signed in to print this content
Author:
Giada De Laurentiis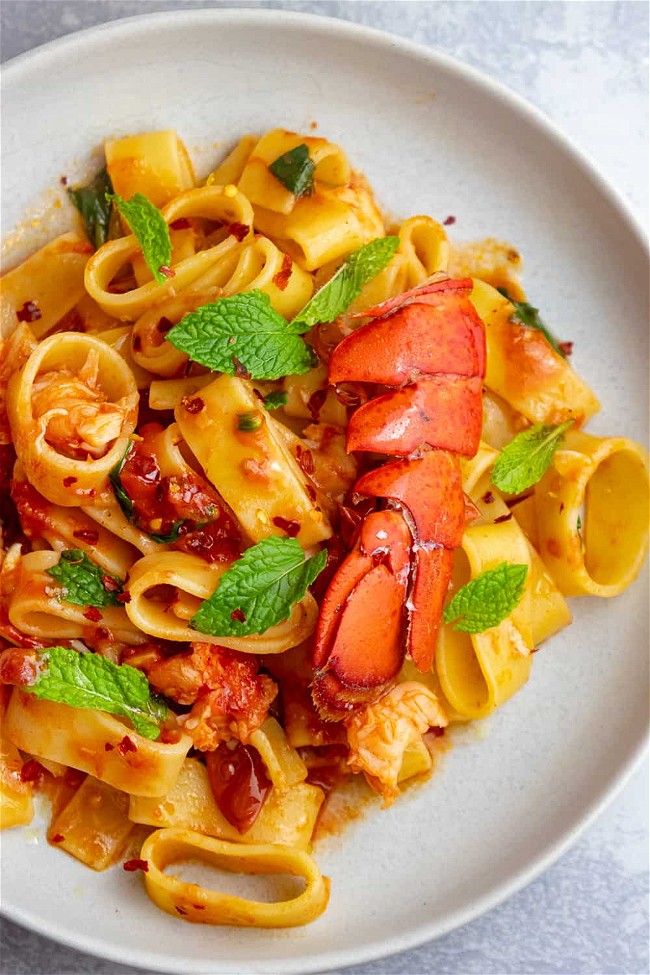 Ingredients
3 garlic cloves (finely chopped)
½ teaspoon crushed red pepper flakes
½ teaspoon freshly ground black pepper
2 lobster tails, (plus more if desired*)
½ cup white wine
3 tablespoons fresh basil, (chopped)
2 tablespoons cold butter
¼ cup fresh mint, (chopped, for garnish)
Instructions
To cook the lobster tails, bring a large pot of lightly salted water to a boil. Once boiling, bring the temperature down to a simmer, just below boiling. Add the lobster tails (if frozen, allow them to thaw at room temperature for 30 minutes first). Cook for 3-4 minutes, until the lobster shell looks bright red, and the meat turns white and tender. Drain and set aside.
For the pasta, bring a large pot of salted water to a boil over high heat. Add the pasta and cook until tender but still firm to the bite, stirring occasionally, 8 to 10 minutes. Drain the pasta.
Meanwhile, take the meat out of one of the lobster tails, dice into cubes, and set aside.* Reserve the empty lobster tail, this will be used to flavor the sauce. Cut the second lobster tail in half and in half again, resulting in 4 equal parts, to ensure that each serving will have lobster.
Meanwhile, in a large, heavy skillet, heat the olive oil over medium-high heat. Add the garlic, the reserved emptied lobster shell, red pepper flakes, salt and pepper. Stir and cook for 2 minutes. Discard the empty lobster shell.
Add the white wine, using a wooden spoon to scrape up the brown bits from the bottom of the pan. Add tomatoes, basil, chopped lobster meat, and the 4 quarters of the second lobster tail. Cook until the lobster meat and tomatoes are just heated through, 2 to 3 minutes.
Add the linguine to the pot and stir to coat the pasta in the sauce. Add the butter, and gently stir and swirl the pan until dissolved. Serve, ensuring each bowl has a quarter of the lobster tail, and garnish with fresh mint.
*If using more than 2 lobster tails, chop up the meat in the additional lobster tails and add to the dish with the tomatoes and basil. Reserve just one empty lobster tail shell to flavor the sauce, and discard the rest.
Nutrition
Amount/Serving
% Daily Value
Carbs

95 grams

Protein

22 grams

Fat

19 grams

Saturated Fat

5 grams

Trans Fat

1 grams

Cholesterol

55 milligrams

Sodium

633 milligrams

Fiber

6 grams

Sugar

8 grams