You must be signed in to print this content
Category
Main Course Salad
Author:
Giada De Laurentiis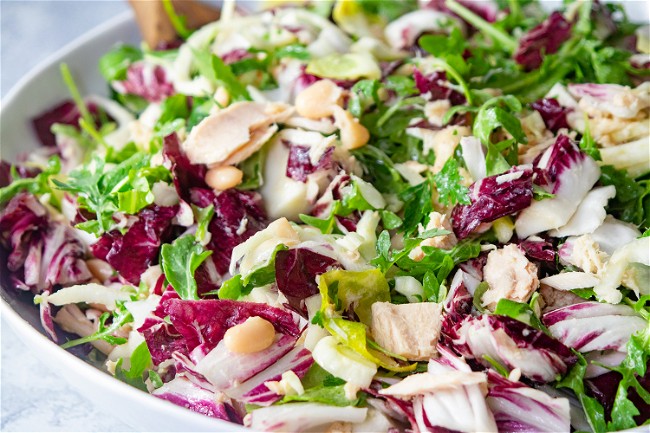 Ingredients
2 tablespoons lemon juice (from 1 large lemon)
1 teaspoon Dijon mustard
3/4 teaspoon kosher salt (divided)
1 Belgian endive (cut into 2 inch pieces)

2 small treviso, cut into 2 inch pieces

2 cups baby arugula
1 small fennel (shaved on a mandolin or sliced thinly with a knife)
1/2 cup Italian parsley leaves
Instructions
As seen on: Giada In Italy, Episode 6. Sisters and Cousins.
To a large bowl add the capers, lemon juice and Dijon mustard. Whisk together. While whisking, drizzle in the olive oil in a steady stream. Whisk in 1/4 teaspoon salt. To the dressing add the beans and mash gently with a spoon. Add the tuna, flaking it with a fork into bite sized pieces as you add it to the bowl. Toss lightly to coat. Add the endive, treviso, arugula, shaved fennel, parsley leaves and the remaining 1/2 teaspoon salt on top of the tuna mixture. Using your hands, toss the salad together bringing the dressing up from the bottom of the bowl until everything is coated evenly.
Nutrition
Amount/Serving
% Daily Value
Carbs

6 grams

Protein

15 grams

Fat

18 grams

Saturated Fat

3 grams

Cholesterol

8 milligrams

Sodium

703 milligrams

Fiber

3 grams

Sugar

1 grams

Unsaturated Fat

14 grams