You must be signed in to print this content
Author:
Giada De Laurentiis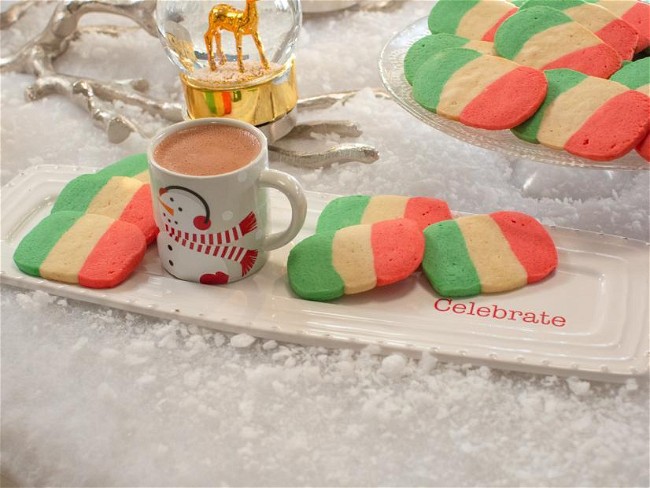 Ingredients
2 sticks (8 ounces unsalted butter, at room temperature)
1/2 cup powdered sugar
1/4 cup granulated sugar
1/2 teaspoon kosher salt
1 large egg (at room temperature)
1/2 teaspoon pure vanilla extract
2 1/4 cups all-purpose flour
Green and red food coloring
Instructions
Beat the butter, powdered sugar, granulated sugar and salt with an electric mixer on medium speed until pale and creamy, about 2 minutes. Add the egg and vanilla and mix on low to incorporate. Add the flour and beat on low speed until the flour is just incorporated. Divide the dough into 3 equal parts and place them in bowls. Add 15 drops green food coloring to one bowl and 25 drops of red to another and mix well to combine.
Lay a large piece of plastic wrap on a work surface. Starting with the green, pour the dough out into a long strip about 2 inches wide and 1 inch thick. Pour the white on top of the green in the same manner, forming another strip of the same dimensions, finish with the red. Wrap well, turn on its side so the colors are in the order of the Italian flag and refrigerate until firm, at least 3 hours.
Preheat the oven to 350 degrees F.
Line a baking sheet with parchment paper. Remove the plastic wrap from the dough and slice the dough into 1/4-inch slices. Place the cookies 1 inch apart on the baking sheet. Bake until just barely beginning to brown around the edges, 15 to 20 minutes. Cool for 5 minutes on the baking sheet before removing to a wire rack to cool completely. Repeat with the remaining dough.