You must be signed in to print this content
Category
Appetizer Salad Side Dish
Author:
Giada De Laurentiis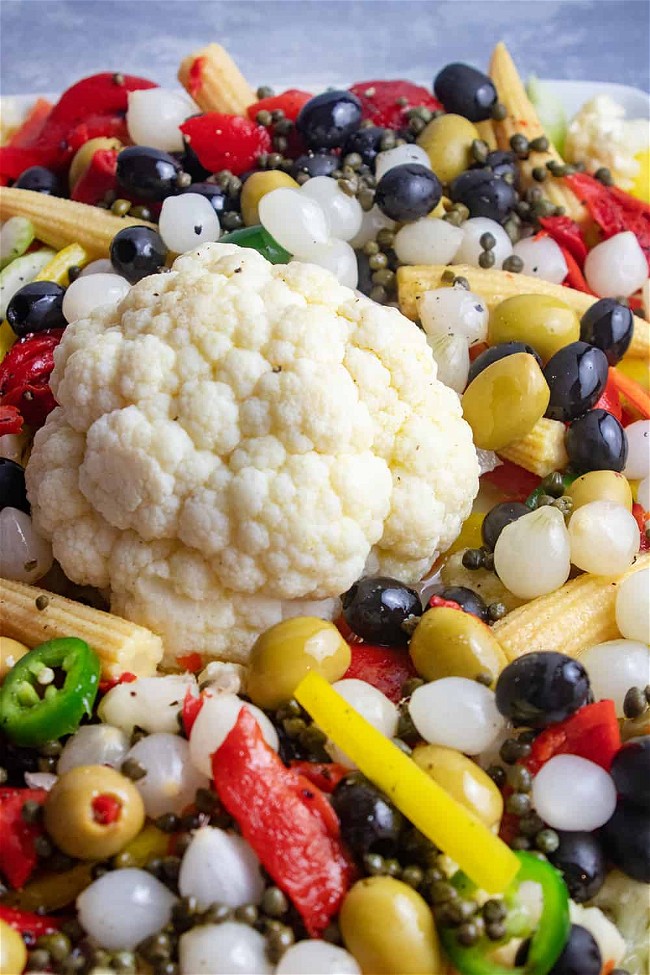 Ingredients
1 2-pound head cauliflower
3 16-ounces each jars giardiniera, drained
1 15-ounce can baby corn, drained and rinsed
1 12-ounce jar roasted red bell peppers, drained
1 7.5-ounce jar baby pearl onions, drained
1 7-ounce jar green olives, drained
1 6-ounce jar pitted kalamata olives, drained
1 4-ounce jar capers, drained
2/3 cup extra-virgin olive oil
1/3 cup red wine vinegar
1 teaspoon freshly ground black pepper
Instructions
Pour enough water (about 2 cups) into a large wide pot to come 1-inch up the sides. Cover and bring the water to a boil over high heat. Add the whole head of cauliflower to the boiling water. Reduce the heat to medium. Cover and steam until a skewer inserts easily into the core of the cauliflower, about 8 minutes. Transfer the cauliflower to the center of a 16 to 20-inch-diameter platter. Set aside to cool completely.
Arrange the giardiniera, corn, and roasted bell peppers in piles around the cauliflower. Sprinkle the onions and olives over the vegetables. Sprinkle the capers over.
Whisk the oil, vinegar, and black pepper in a medium bowl to blend. Drizzle the vinaigrette over the vegetables, and serve. The salad can be prepared ahead. Cover the salad and refrigerate it overnight. Bring the salad to room temperature before serving.
Nutrition
Amount/Serving
% Daily Value
Carbs

52 grams

Protein

8 grams

Fat

40 grams

Saturated Fat

4 grams

Sodium

3104 milligrams

Fiber

7 grams

Sugar

5 grams