You must be signed in to print this content
Author:
Giada De Laurentiis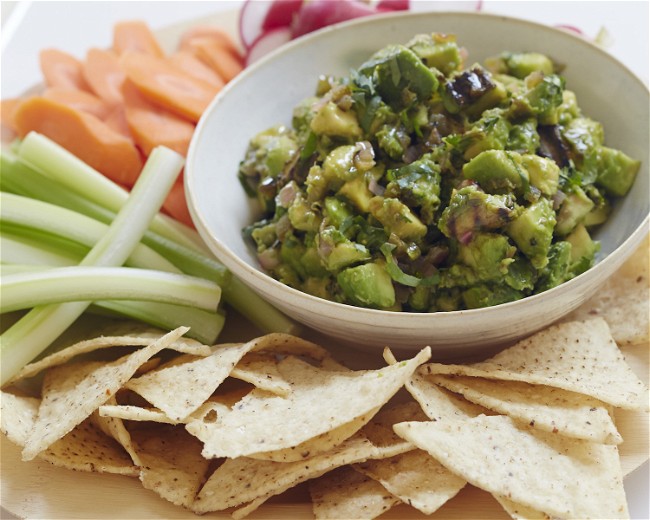 Ingredients
1 shallot (peeled and halved)
1 jalapeno pepper
1 lime (halved)
3 avocados (halved and pitted)
1 tablespoon vegetable oil
3/4 teaspoon kosher salt
1/8 teaspoon ground cumin
2 tablespoons chopped cilantro
Tortilla chips (sliced carrots, sliced radishes, or celery, for serving)
Instructions
Preheat a grill or grill pan to medium-high heat.
Place the shallot halves and jalapeno on the grill. Cook, turning frequently, until browned on all sides, about 5 minutes. Set aside to cool. Place the lime halves cut side down on the grill and cook for about 1 minute or until nice grill marks form.
Roughly chop the shallot and jalapeno, using as many or as few seeds as you like (fewer seeds make a less spicy guacamole). Place in a medium bowl and squeeze the charred lime over all. You should get just over 1 tablespoon of juice. Set the bowl aside.
Using a large spoon, scoop the avocados from the skins. Drizzle the halves evenly with the vegetable oil and sprinkle with 1/4 teaspoon salt. Place the avocado halves cut side down on the grill and grill for 1 minute. Flip the avocados and continue to cook for an additional minute or until golden brown grill marks are formed. Add to the bowl with the shallot-jalapeno mixture and cool slightly.
Using a large fork, smash the avocados until they are evenly mashed but still slightly chunky. Fold in the remaining salt, the cumin, and the cilantro and serve with chips or crudite.