Gnocchi with Thyme Butter Sauce
You must be signed in to print this content
Gnocchi with Thyme Butter Sauce
Category
Main Course Side Dish
Author:
Giada De Laurentiis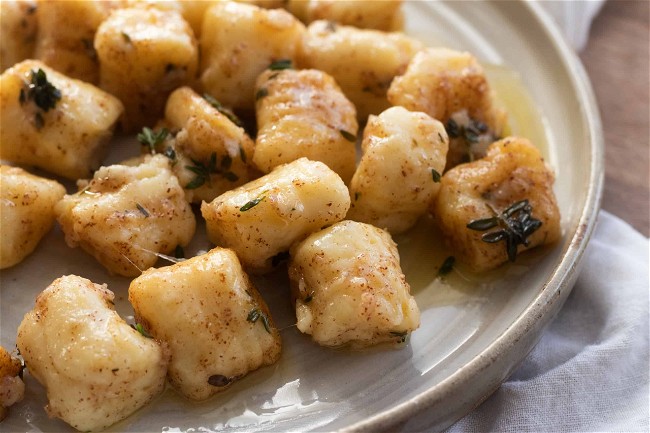 Ingredients
1/2 cup unsalted butter
1 tablespoon fresh thyme leaves
1 1/2 pounds russet potato (about 2 medium potatoes)
1/4 teaspoon freshly ground black pepper
1 large egg (beaten)
1/4 cup shaved Pecorino Romano cheese
Instructions
Cook the butter in a medium skillet over medium heat until it begins to brown, about 4 minutes. Remove from the heat. Add the thyme leaves. Set aside.
Pierce the potatoes all over with a fork. Microwave the potato until tender, turning once, about 12 minutes. While hot, cut the potatoes in half and score the flesh to allow the steam to escape. When still warm but cool enough to handle scoop the flesh into a ricer* and rice into a medium bowl. Spread evenly in the bowl to continue to allow the steam to escape. Discard the skin. Add the salt, pepper and flour and gently toss to combine. Form a well and add the egg. Using your hand and starting in the center, mix well to combine. Place the dough onto a clean counter dusted with flour. Knead the dough just until blended, about 4 or 5 times.
Divide the dough into 4 equal pieces. Roll each piece between your palms and the work surface into a 1/2-inch-diameter rope (about 20 inches long). Cut the dough into 1-inch pieces. Roll each piece of dough over a wooden paddle with ridges or over the tines of a fork to form grooves in the dough. Place on a well-floured surface. Continue with the remaining dough dusting the gnocchi with additional flour as you go.
Bring a large pot of water to a boil. Season generously with salt.
Add the gnocchi to the boiling water and stir with a wooden spoon to prevent sticking. Cook until the gnocchi rise to the surface, about 1 minute. Continue cooking until the gnocchi are tender, about 2 to 3 minutes longer. Using a slotted spoon, transfer the gnocchi to the hot thyme-butter in the skillet. Toss to coat. Spoon the gnocchi and butter sauce into shallow bowls. Top with the Pecorino and serve.
Nutrition
Nutrition
Nutrition Serving Size

4
Amount/Serving
% Daily Value
Carbs

55 grams

Protein

11 grams

Fat

26 grams

Saturated Fat

16 grams

Cholesterol

114 milligrams

Sodium

396 milligrams

Fiber

3 grams

Sugar

1 grams