Turkey & Pancetta Pot Pies
You must be signed in to print this content
Turkey & Pancetta Pot Pies
Author:
Giada De Laurentiis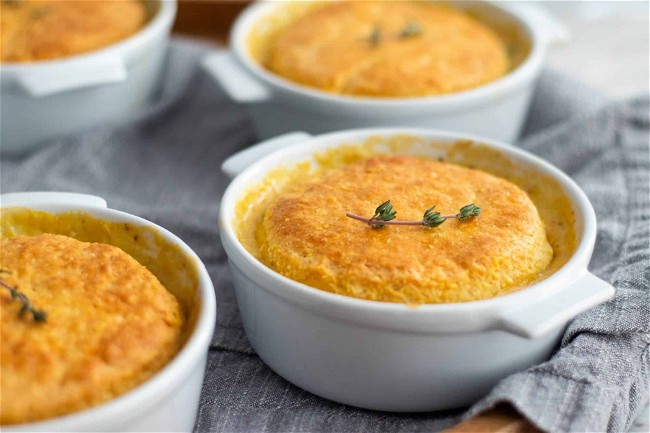 Ingredients
4 ounces finely diced pancetta
1 tablespoon unsalted butter (at room temperature)
1 large or 2 small shallots (chopped)
2 medium carrots (peeled and diced into 1/2-inch pieces)
1 tablespoon chopped fresh thyme leaves
1/2 teaspoon kosher salt
1/2 teaspoon freshly ground black pepper
2 1/2 cups low-sodium chicken broth
1/4 cup heavy cream
3 cups about 14 ounces roasted turkey breast meat, cut into 1/2-inch pieces
1 cup frozen peas (thawed)
1/2 cup frozen corn (thawed)
For The Crust:
3/4 cup flour (plus extra for dusting)
1/4 teaspoon kosher salt
1 teaspoon baking powder
1/2 teaspoon baking soda
1 ounce 2 tablespoons unsalted butter, cut into 1/2-inch cubes
1/3 cup buttermilk (plus extra, as needed)
3 tablespoons extra-virgin olive oil
Special equipment: 6 (10-ounce ramekins, each 2 1/2 inches tall and 3 1/2 inches in diameter. A 3-inch round cookie cutter)
Instructions
Place an oven rack in the center of the oven. Preheat the oven to 400 degrees F.
For the filling: In a large saucepan, heat the oil over medium-high heat. Add the pancetta and cook, stirring occasionally, until brown and crispy, about 8 minutes. Pour the pancetta and any cooking juices onto a paper towel-lined pate. Add the butter, shallots, carrots and thyme to the saucepan. Season with 1/4 teaspoon salt and 1/4 teaspoon pepper. Cook until the carrots are tender, 6 to 8 minutes. Stir in the flour and cook for 1 minute. Increase the heat to high. Add the chicken broth and scrape up the brown bits that cling to the bottom of the pan with a wooden spoon. Cook until the mixture thickens, about 3 minutes. Add the cooked pancetta, heavy cream, turkey, peas, corn, and the remaining salt and pepper. Simmer for 3 minutes until heated through. Using a ladle, fill the ramekins with the mixture.
For the crust: In a food processor, pulse together the flour, cornmeal, salt, baking powder, and baking soda. Add the butter and cheese and process until the mixture resembles coarse meal. With the machine running, add 1/3 cup buttermilk and the oil. Process until the mixture begins to form a ball, adding extra buttermilk, 1 teaspoon at a time, if needed. On a lightly floured work surface, roll out the dough into a 10-inch diameter circle, about 1/4-inch thick. Using a 3-inch round cookie cutter, cut the dough into 6 circles and place on top of the filling.
Bake until the crust is golden and the filling is bubbling, 20 to 25 minutes. Cool for 5 minutes before serving.
Nutrition
Amount/Serving
% Daily Value
Carbs

33 grams

Protein

35 grams

Fat

41 grams

Saturated Fat

15 grams

Cholesterol

121 milligrams

Sodium

1127 milligrams

Fiber

4 grams

Sugar

4 grams