You must be signed in to print this content
Author:
Giada De Laurentiis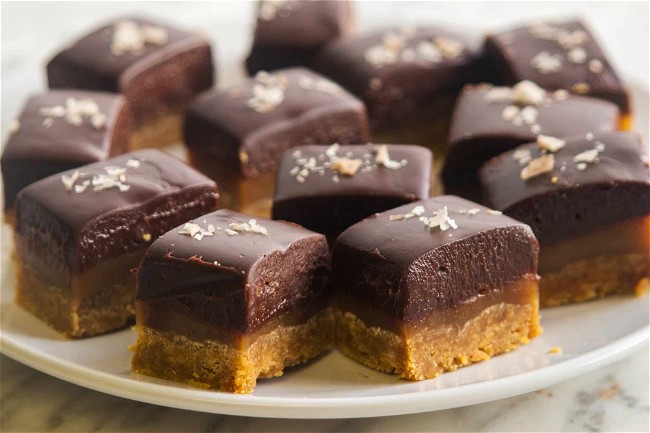 Ingredients
Crust:

Vegetable cooking spray
12 whole (6 ounces cinnamon graham crackers, crumbled, or 2 cups cinnamon graham cracker crumbs)
1/4 cup sugar
1 1/2 sticks (6 ounces unsalted butter, melted)

Caramel:

1/2 cup heavy cream
1 stick (4 ounces unsalted butter, at room temperature)
1 1/2 cups light brown sugar
1 tablespoon water

Chocolate Layer:

2 cups 12 ounces semisweet chocolate chips

Caramel:

1/2 cup heavy cream
1 3/4 teaspoons instant espresso powder
1 teaspoon smoked sea salt (optional)
Instructions
Special equipment: a candy thermometer
For the crust: Position an oven rack in the middle of the oven. Preheat the oven to 350 degrees F. Line the bottom of a 9-inch round springform pan with parchment or waxed paper. Spray the paper and the sides of the pan with cooking spray. In the bowl of a food processor, combine the graham crackers and sugar. Process until the mixture resembles fine bread crumbs. Add the melted butter and blend until the mixture forms into clumps. Spread the mixture into the bottom of the prepared pan, pressing gently to form an even layer. Place the pan on a baking sheet and bake for 10 to 12 minutes until the crust is golden. Cool for 15 minutes.
For the caramel: While the crust is cooling, in a medium heavy-bottomed saucepan, combine 1/2 cup of cream, butter, sugar, and water. Stir over medium heat until the mixture is smooth. Bring the mixture to a boil and cook, without stirring, until a candy thermometer registers 240 degrees F, about 5 to 7 minutes. Carefully pour the caramel over the warm crust. Cool for 20 minutes. Freeze until firm, about 10 minutes.
For the chocolate layer: Combine the chocolate chips and cream in a small bowl and place over a pan of simmering water. Stir until the chocolate has melted and the mixture is smooth, about 3 minutes. Whisk in the espresso powder. Remove the springform pan from the freezer. Pour the chocolate mixture over the caramel layer and smooth with a spatula. Sprinkle the top with smoked sea salt, if using. Refrigerate for at least 1 hour until firm.
Allow the layers to come to room temperature, about 30 minutes. Using a warm, slightly wet knife, carefully cut around the edges of the chocolate layer. Release the side of the pan and remove the paper from the bottom. Cut into 1 1/2-by-1/2-inch bars and store airtight in a covered plastic container.