Crispy Parmesan Broccoli and Cauliflower Salad
You must be signed in to print this content
Crispy Parmesan Broccoli and Cauliflower Salad
Category
Main Course Salad
Author:
Giada De Laurentiis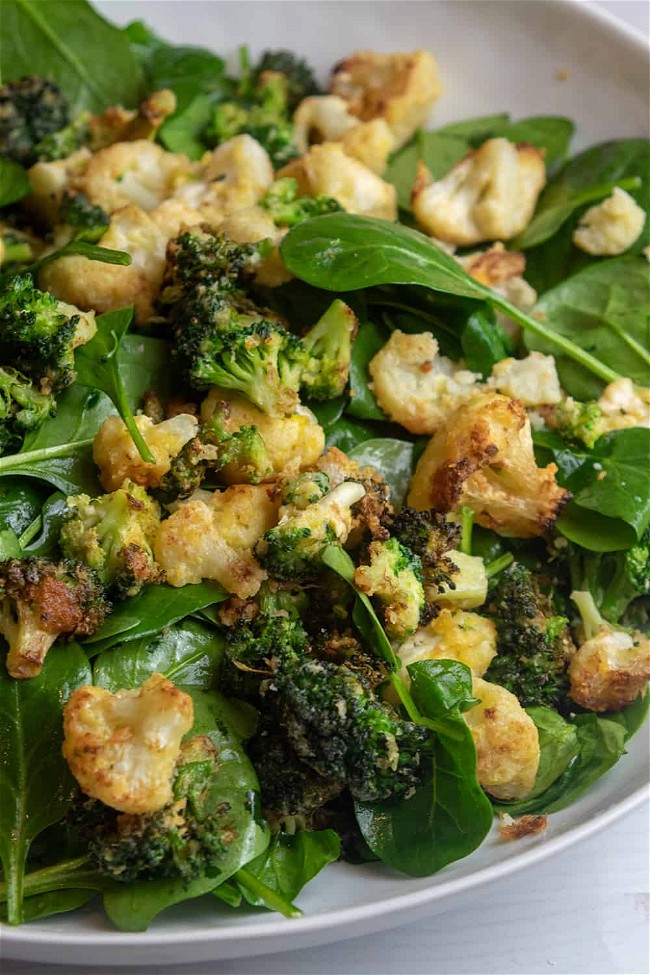 Ingredients
2 1/2 cups bite-sized broccoli florets
2 1/2 cups bite-sized cauliflower florets
2 eggs (lightly beaten)
1 cup grated Parmesan
1/2 to 1 cup olive oil
1/2 teaspoon kosher salt
4 cups lightly packed fresh spinach leaves
1/2 lemon (zested)
1 lemon (juiced)
1/4 cup extra-virgin olive oil
1/2 teaspoon freshly ground black pepper
Instructions
Place the broccoli and cauliflower in a large bowl. Toss with the beaten eggs to coat evenly. Place the Parmesan in a large tray or baking dish and dredge the vegetables in the cheese, pressing to coat evenly.
Pour olive oil in a large heavy skillet until the olive oil is 1/4-inch deep, about 1/2 cup depending on the size of your skillet. Warm the olive oil over medium-high heat. When the oil is hot, carefully add the Parmesan-coated vegetables. Do not overcrowd the pan. Cook in batches, if necessary. Let the vegetables cook until a crust forms, about 3 minutes per side. Turn the vegetables only when they easily release from the bottom of the pan. Drain on paper towels and season with salt.
Place the spinach in a large bowl. In a small bowl, whisk together the lemon zest, lemon juice, extra-virgin olive oil, salt, and pepper. Drizzle the spinach with the vinaigrette and toss to coat. Add the Parmesan coated vegetables. Toss and serve.
Nutrition
Amount/Serving
% Daily Value
Carbs

13 grams

Protein

17 grams

Fat

50 grams

Saturated Fat

11 grams

Trans Fat

1 grams

Cholesterol

104 milligrams

Sodium

767 milligrams

Fiber

5 grams

Sugar

4 grams