Chocolate Hazelnut Sandwich Cookies (Baci di Dama)
You must be signed in to print this content
Chocolate Hazelnut Sandwich Cookies (Baci di Dama)
Author:
The Giadzy Kitchen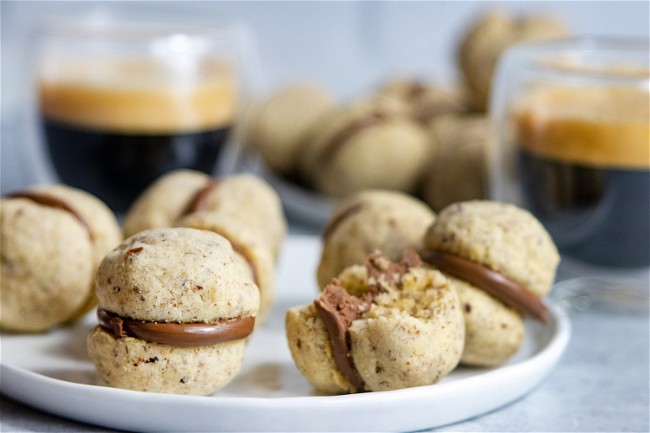 Ingredients
½ cup (1 stick) unsalted butter, at room temperature
½ cup powdered sugar
1/2 teaspoon vanilla extract
1/4 teaspoon kosher salt
1 egg at room temperature
1 cup hazelnut flour, (or almond flour, firmly packed)

For The Filling:

3/4 cup milk chocolate chips
Instructions
Preheat the oven to 350 degrees.
In a standing mixer fitted with a paddle attachment, combine the butter and powdered sugar. Beat on medium speed until pale, light and fluffy. Add the vanilla extract, salt and egg. Beat again for 1 minute. Add the flour and hazelnut flour and mix on low until just combined.
Using a very small ice cream scoop or just scant of 2-teaspoon portions, portion the cookie dough mounds. Roll each one into a small ball in your hand, then place on the baking sheet at least 1 inch apart from each other. The dough should yield about 44 cookies. Bake for 11 to 12 minutes or until just set and barely browned on the bottom. Remove from the oven to cool completely to room temperature.
Meanwhile, add the chocolate chips to a small microwave-safe bowl. Microwave in 30 second increments, stirring in between, until they are completely melted. Add the chocolate hazelnut spread and mix until completely combined. Allow to cool to room temperature so that it is not runny.
Using either a piping bag or spoon, dollop just over a teaspoon of the chocolate hazelnut mixture onto the bottom side of half of the cookies. Allow the chocolate to slightly set for about 2 minutes before lightly pressing the second half of the cookie down on top. Allow the cookies to sit undisturbed until the chocolate has set, about 10 minutes.
Nutrition
Amount/Serving
% Daily Value
Carbs

12 grams

Protein

2 grams

Fat

9 grams

Saturated Fat

5 grams

Trans Fat

1 grams

Cholesterol

20 milligrams

Sodium

33 milligrams

Fiber

1 grams

Sugar

4 grams

Unsaturated Fat

2 grams