You must be signed in to print this content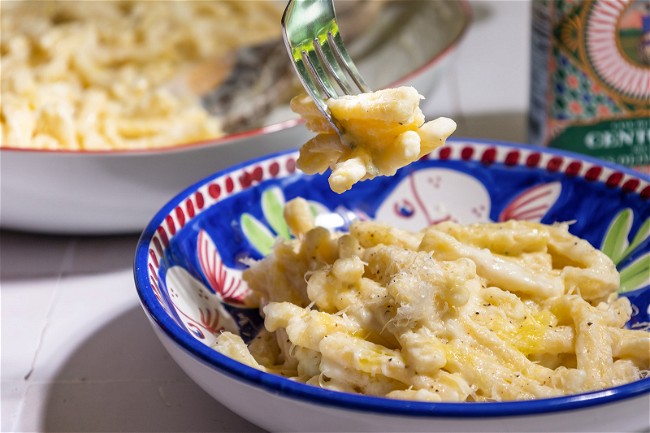 Ingredients
1 small head cauliflower (about 1 1/2 pounds), cut into 1-inch florets
3 cloves garlic, smashed and peeled
2 tablespoons unsalted butter
1 teaspoon kosher salt, plus more for the water
Freshly ground black pepper, to serve
Instructions
Bring a large pot of water to a boil. Season it generously with salt. Add the cauliflower and garlic to the water and cook until very tender, about 10 minutes. Drain the vegetables and add them to a blender along with the butter and salt. Puree on high, scraping down the sides as needed, until very smooth, about 1 minute. Add the sauce to a large bowl.
Bring large pot of fresh water to a boil. Season generously with salt. Cook the pasta until al dente, about 1 minute less then package directions. Using a tongs and a pasta spider if needed, remove the pasta from the water to the bowl with the sauce. Sprinkle the bare pasta with the cheese. Add 1/2 cup of pasta water to the bowl and toss to coat the pasta, creating a sauce that is creamy and clings to the pasta. Add another 1/2 cup of pasta water as needed to create a sauce. Serve topped with freshly grated parmesan, freshly cracked black pepper and a drizzle of olive oil.

Chef's Note: If you want to double down on the cauliflower taste, feel free to boil your pasta in the same water as the cauliflower.