Tuna, White Bean, and Bitter Greens Salad
Tuna, White Bean, and Bitter Greens Salad
Author:
Giada De Laurentiis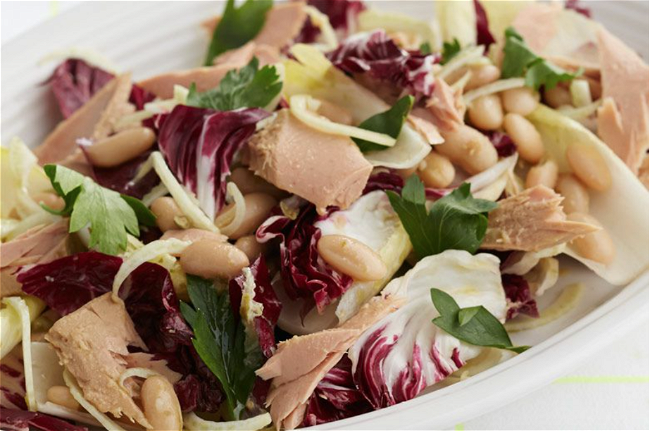 Ingredients
1 tablespoon capers (drained and chopped 1)
2 tablespoons fresh lemon juice from 2 large lemons
1 teaspoon Dijon mustard
3/4 teaspoon kosher salt (divided)
1 15-ounce can cannellini beans, drained and rinsed
1 6.35 ounce jar tuna packed in olive oil, drained
2 Belgian endives (cut into 2-inch pieces)
1 small head radicchio (cut into 2-inch pieces)
1 small fennel bulb (shaved on a mandoline or thinly sliced with a knife)
1/2 cup Italian parsley leaves (lightly packed)
Instructions
In a large bowl, combine the capers, lemon juice, and Dijon mustard and whisk together. Continue whisking and drizzle in the olive oil in a steady stream until emulsified. Whisk in 1/4 teaspoon of the salt.
Add the beans and tuna to the dressing, flaking the tuna into bite-size pieces with a fork as you add it to the bowl. Toss lightly to coat. Add the endive, radicchio, shaved fennel, parsley leaves, and the remaining 1/2 teaspoon salt to the tuna mixture. Using your hands, toss the salad together, bringing the dressing up from the bottom of the bowl until everything is coated evenly.