You must be signed in to print this content
Author:
Giada De Laurentiis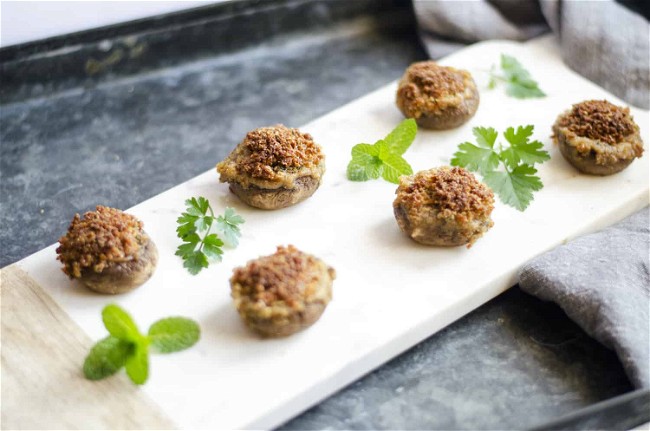 Ingredients
1/2 cup Italian-style dried bread crumbs
1/2 cup grated Pecorino Romano
2 garlic cloves (peeled and minced)
2 tablespoons chopped fresh Italian parsley leaves
1 tablespoon chopped fresh mint leaves
Salt and freshly ground black pepper
1/3 cup extra-virgin olive oil
28 large (2 1/2-inch-diameter white mushrooms, stemmed)
Instructions
Preheat the oven to 400 degrees F.
Stir the bread crumbs, Pecorino Romano, garlic, parsley, mint, salt and pepper, to taste, and 2 tablespoons olive oil in a medium bowl to blend.
Drizzle a heavy large baking sheet with about 1 tablespoon olive oil, to coat. Spoon the filling into the mushroom cavities and arrange on the baking sheet, cavity side up. Drizzle remaining oil over the filling in each mushroom. Bake until the mushrooms are tender and the filling is heated through and golden on top, about 25 minutes. Serve.