Grilled Chicken with Basil Dressing
You must be signed in to print this content
Grilled Chicken with Basil Dressing
Author:
Giada De Laurentiis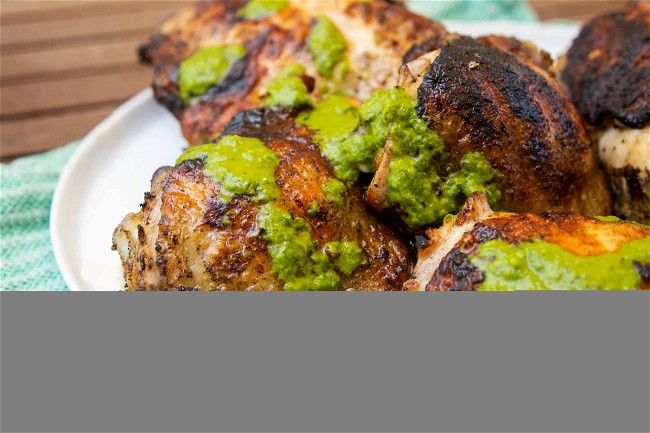 Ingredients
2/3 cup extra-virgin olive oil
3 tablespoons fresh lemon juice (plus 1/4 cup)
1 1/2 teaspoons fennel seeds (coarsely crushed)
1 1/2 teaspoons salt
1 teaspoon freshly ground black pepper
3 bone-in (skin-on chicken thighs)
3 bone-in (skin-on chicken breasts)
1 cup lightly packed fresh basil leaves
1 large garlic clove
1 teaspoon grated lemon peel
Instructions
Whisk 1/3 cup of oil, 3 tablespoons of lemon juice, fennel seeds, 3/4 teaspoon of salt, and 1/2 teaspoon of pepper in a resealable plastic bag. Add the chicken and seal the bag. Massage the marinade into the chicken. Refrigerate at least 30 minutes and up to 1 day, turning the chicken occasionally.
Meanwhile, blend the basil, garlic, lemon peel, remaining 1/4 cup lemon juice, 3/4 teaspoon salt, and 1/2 teaspoon pepper in a blender until smooth. Gradually blend in the remaining 1/3 cup oil. Season the basil sauce, to taste, with more salt and pepper, if desired.
Prepare the barbecue for medium-high heat or preheat a grill pan over medium-high heat. Remove chicken from the marinade. Discard the marinade. Grill the chicken until just cooked through, about 8 minutes per side. Transfer the chicken to serving plates, drizzle with the basil sauce and serve.